Las Vegas Nightlife Review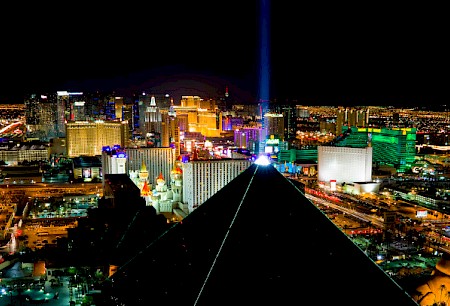 No visit to Las Vegas can termed complete if you have not had a taste of the Las Vegas nightlife. No matter the part of Las Vegas you visit, you will always have a place to have a taste of the real Las Vegas nightlife. The clubs here have a reputation of attracting the best DJs from across the world. The fans keep coming and the clubs keep offering them an overdose of the fun they anticipate. Any time you come to Las Vegas and feel like you want to experience its night life, you can check in one of the following top Las Vegas nightlife clubs or even all of them.
Top 5 clubs in Las Vegas, NV That will Satisfy Your Nightlife Fantasies
XS Nightclub

3131 S Las Vegas Blvd, Las Vegas, NV 89109

XS Nightclub is undisputedly the most outstanding night club in Las Vegas. It is one of the most luxurious and expensive night clubs to be erected on the face of American soil. There is gold almost in every place and an ever crowded dance floor. If you want to take a fresh breath, you can go to the outside pool area where bottle service is also available. At XS, you should expect to meet word class DJs such as Avicii, Skrillex, Zedd and Deadmau5. The best day to visit this night club is on Sunday night. Let us take care of your transportation. We offer round trip limousines services to all Vegas clubs.

Hekkasan

3799 S Las Vegas Blvd, Las Vegas, NV 89109

All night clubs feel like they must beat Hekkasan to become the best. The club is massive in size with plenty of stairs connecting the 5 different floors. The five partitions include a very bid dance floor, a ling long where you can enjoy some off the dance floor moments and spacious bar areas. The big names in the fields of deejaying who are not signed at XS are found here. They include Calvin Harris, Tiesto and Afrojack. Just adjacent to this club, there is Hekkasan restaurant where you can enjoy the best Cantonese food before hopping into the club. The club is open on Thursday; the only weekday it's open. However, it does not have an outside arena. If you're coming here with a group of friends, book a Las Vegas party bus for the night!

Marquee

3708 S Las Vegas Blvd, Las Vegas, NV 89109

Marquee plays in the same league with XS when it comes to attracting fans on Mondays. It has a lot of space and several rooms; a library included. There is also an outdoor areas with a pool to take some fresh air when the inside gets too hot. The club also has some of the hottest girls in Las Vegas. If you need accomodations, be sure to check out our list of budget friendly hotels in Las Vegas.

Light Nightclub

3950 S Las Vegas Blvd, Las Vegas, NV 89119

Light is the place to be if you want to watch some shows besides plunging into a night of drinking and partying. You will often see acrobats doing what they are good at on poles and from the ceilings. Want to meet DJ Baauer? This is the place to be. The club is not very old. Therefore, you can get the best on Wednesday and any other weekday they are open to avoid weekend completion with the likes of SX.

Beacher's Madhouse

3799 S Las Vegas Blvd, Las Vegas, NV 89109

Shows are also very common here. You will not miss to catch a midget wrestling match or heavy metal balancing shows. The club was opened by the help of Miley Cyrus and there are good chances of bumping into her regularly at this Madhouse. There are also long and comfortable couches for watching the stage.
No single club can satisfy the fantasies of every night club goer. That is why there are several Las Vegas nightlife cannot be matched. Every club has something unique that keeps its fans coming back. And next time you're back in town with all your friends, book a charter bus for your group. If you have limited time in Las Vegas and you want to have it all, you can club hop. All in all, Las Vegas trip is incomplete without an experience of the nightlife.