Best Restaurants in St Louis, Missouri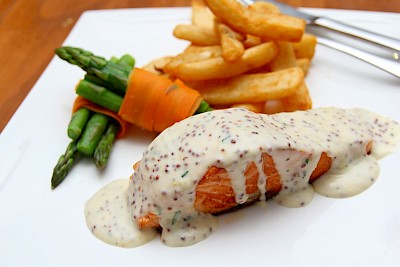 St. Louis is crammed with a wide variety of dining attractions. Indeed, there is a complete section of this Eastern-Central Missouri city, which is entirely dedicated to eateries offering old school' Italian cuisine. While the restaurants located in downtown St. Louis can provide the most varied gastronomic options, both for lunches and dinner. Well then, here are some of the best restaurants in St. Louis, Missouri.
Top 5 Restaurants in St Louis, MO
Eleven Eleven Mississippi

1111 Mississippi St. Louis, MO 63104

Eleven Eleven Mississippi is housed in a renovated factory building. It's interior décor is a delightful blend of wood, leather and copper, and it comes with 2 different levels. Not to mention fireplaces as well as an impressive exhibition kitchen. The menu in the offing is a mix of Californian and Italian delicacies that showcases a good number of choice dishes. This includes potato crusted halibut along with braised rabbit that is served with goat cheese polenta.

Sidney Street Café

1200 Sidney St. St Louis, MO 63104

Sidney Street Café is a very trendy St. Louis restaurant that is situated within the Bento Park district of this Missouri city. It comes with well-polished wooden flooring, large airy windows along with an old fashioned' bar. All in all, this eatery can be aptly described as epitomizing relaxation and comfort. Its menu is seasonal and features popular dishes such as hand cut steaks, veal chops and even lamb. These meals are prepared with an assortment of herbs, sauces together with marinades as well. This is a great place to take a St Louis limousine with your significant other!

Big Sky Café

47 S Old Orchard Ave, Webster Groves, MO 63119

This is a restaurant highly acclaimed for the wholesome and delicious dishes that grace its menu. At Big Sky Cafe classic favorites are seemingly magically transformed into mouthwatering culinary masterpieces. For instance, the meatloaf offered is prepared with veal rather than hamburgers and is served with red pepper mushroom and spinach. On the other hand, ketchup has been replaced with piquant tomato gravy. While creamy spinach is made more savory with smoked Gouda cheese and the flavor of mashed potatoes is greatly enhanced with roasted garlic.

Tony's

410 Market St. St Louis, MO 63102

Tony's happens to be a grand, yet understated St. Louis eatery, which can be the ideal venue to celebrate momentous occasions. One of its most popular dishes is the lobster albanello that is cooked with creamy mushroom sauce. This meal can go down exceptionally well with spaghetti or even mixed seafood comprising of mussels, shrimps and clams. The last dish of which is served in thickened marinara sauce. If you're heading here with the entire family, your going to need ground transportation. There's no better way than hiring a Stl party bus rental!

Al's Restaurant

1200 M 1ST St, St. Louis, MO 63102

This best restaurants in St. Louis review would certainly be incomplete without mentioning Al's Restaurant. Essentially, this eatery quickly bring to mind fond reminiscences of the steakhouses of the bygone era. Some of its more striking features are a wooden interior décor, a tuxedoed waiting staff, a nautical themed bar and even tableside food preparations. This is also a hotspot for local celeberities!

Al's Restaurant doesn't use printed menus. Instead its waiters are always at hand to recite the various dishes in the offing at any particular time. Also, its kitchen crew is always open to listen to special requests from the patrons. Here, lamb, chicken, beef, lobster, veal and even pasta dished can be concocted in virtually boundless variations.
We can comfortably say that St. Louis is without doubt one of gastronomic powerhouses in the US. Depending on your distinctive preferences and tastes, you can settle for any of the above listed restaurants. If you are like us, you probably want to try all of the restaurants listed above. If you want to stop at each one all in the same day, be sure to book one of our charter buses to take you and your guests around town.