Detroit Nightlife Review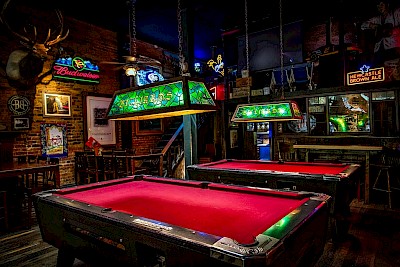 Detroit Michigan has long been thought of as a city of nightlife. This is mostly because of the legendary status of Motown, the birth of the musical era that would inevitably change the musical world, as we know it. Today, the lights never go out in downtown Detroit, and it has become one of the most popular, as well as the most varied, of nightlife spots in the United States. The city has hundreds of famous clubs and bars that people travel hundreds of miles to visit and in some cases thousands.
Top 3 Bars & Nightclubs in Detroit, MI
Northern Lights Lounge

660 W Baltimore St, Detroit, MI 48202

If you prefer a more upscale night club with a little less loud music and a little more class and panache, then you should give the Northern Lights Lounge a try. This is a relatively new club with a defined High-class atmosphere to it. This club is the preferred hangout of the late twenties to mid-thirties crowd. The lighting is slightly dim giving a romantic air to the place, and the music is not so loud that you have to yell to hear each other. All in all, the Northern Lights Lounge makes a nice calmer beginning to an exciting night of clubbing. Hire our limousines take you and pick you up from this club!

St. Andrews Hall

431 E Congress St, Detroit, MI 48226

If you like your music a little more intense with a lot of history behind it, then the St. Andrews Hall is your night spot of choice. This has been home to some of the greatest bands of all time, including, but not limited to, the Red Hot Chili Peppers, Pearl Jam, Nirvana, Aerosmith, and even Soundgarden. Judging by these bands, you can automatically assume that this particular club is all rock and roll. More times than not, the music is loud, and the floor is crowded with high energy fans and dancers.

The concert floor is the main area, but then, if you need to sit down and take a well-deserved break from all the adrenaline burning you have done, you can cruise downstairs to the lounge, order a drink and catch your breath or just talk to your mate or the locals. If visiting this high-energy club, be sure and call ahead to make sure a renowned famed band is playing that night. You can rent one of our party buses if you are traveling with a group of friends.

Times Square Detroit Nightclub

1431 Times Square Detroit, MI 48226

If you like something in between the last two, a mix of style and energy, then you could give the Times Square Detroit nightclub a chance. Here you will have a DJ picking out an excellent mix of good dance music, everything from Hip-Hop to Techno. Though this is not a metal bar, you get that same kind of heavy metal intensity out on the dance floor, but with room to move around without getting bashed about. This is a good place for one who enjoys a good time at a steady pace. The lighting is intense but not blinding, and the decor is comforting. There are a lot of budget friednly hotels in the area.
Detroit has established and maintained a very effective nightlife and musical status over the ages since the Motown Era. Celebrities and stars, as well as fans, travel from all over the globe to this legendary city to experience the legendary nightlife that has gleaned such a renowned reputation. Detroit invites you to come and join the fun on your next vacation getaway to Michigan. And if you want to experience the most, our charter buses are available for pub crawls and festivals.