Best Restaurants in Detroit, Michigan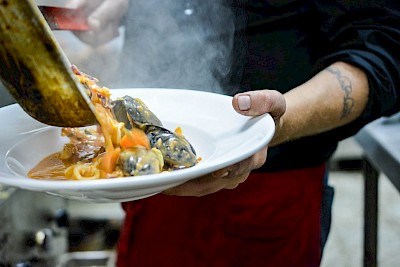 Best Restaurants in Detroit written by: Debdorshi Detroit is the largest city in Michigan and is blessed with several top class restaurants. It is a great place for food lovers. Some of the best restaurants in Detroit are as follows.
Top 5 Restaurants in Detroit, MI
London Chop House

155 W Congress Street, Detroit, MI 48226

Established in 1938, London Chop House is one of the oldest and most popular restaurants in Detroit. For 79 years, they have been serving the people of Detroit amazing steaks and chops. They also serve all kinds of beverages including beers, martinis and premium liquors. There is also live entertainment to keep the guests entertained. Apart from the steaks, you can also try out the lobster salad. It is very well cooked and tastes amazing. They are also very well known for their seafood dishes.

The Whitney Restaurant

4421 Woodward Avenue, Detroit, MI 48201-1821

In case you want to try out some beef or lamb, then you should definitely visit The Whitney Restaurant. If you are a beef lover, then you should order their signature dish Beef Wellington. You can also try out some of the seafood dishes over there like Shrimp Omelet. They also have a large wine collection, including wines produced by the local manufacturers in Detroit. However, the best thing about this restaurant is definitely the location and ambiance. The restaurant is set up in an old mansion. If you want, you can explore the mansion and learn the history of the home and the family who lived over there. There are also separate private rooms in case you want to dine in private.

Mario's Restaurant

4222 2nd Avenue, Detroit, MI 48201-1706

Mario's has been serving awesome Italian dishes to the citizens of Detroit since 1948. The location is also great. It is situated right next to the Theater District. Some of the signature dishes include Calves Liver and Egg Plant Parmesan. They also have a wide selection of desserts. Ballroom dancing is also there during the weekends. For large families, we provide Detroit limo services and party bus rentals to this location.

Joe Muer Seafood

400 Renaissance Center, Suite 1404, Detroit, MI 48243

As the name suggests, the specialty of this restaurant lies in seafood. While here, you should definitely try out the oysters and chicken marsala. And for desserts, you should definitely order their famous coconut cake. Their lava cake is also really good. The location of the restaurant is excellent. It is situated right next to the river. There is an outdoor seating area from which the view is excellent. Even from the indoor dining area, the view is good. This restaurant is favorited by many famous people in the area.

Giovanni's

330 S Oakwood, Detroit MI 48217-1453

Giovanni's is another amazing restaurant in Detroit which serves some awesome Italian dishes. You should try out their parmigiana or fettuccini alfredo. They are very well known for their service. You will get your food almost immediately after placing the order. The staff is very welcoming and friendly. Sometimes the owner also roams around the restaurant and interacts with all the guests. Valet parking is also there, so you don't need to worry about parking.
Thus, we can see that Detroit has some amazing restaurants. From Italian to American, you will find all kinds of cuisine here. If you want to take a food tour in Detroit, be sure to book our charter bus rentals. Bone Apatite!