Baltimore Nightlife Review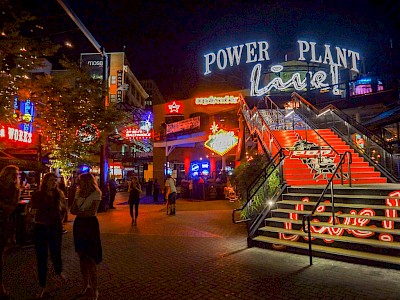 For both locals and travelers, the city of Baltimore, Maryland, offers a fascinating mix of nightclubbing options. From swanky club lounges to warehouse dance parties, there is bar or nightclub to cater for the tastes of even the fussiest bar hopper. Whether an individual wishes to enjoy a date night,fun with the family or a solitary night out,there is no shortage of suitable venues in the city. Here is a Baltimore nightlife review of five of the best nightspots in the city:
Top 5 Bars & Nightclubs in Baltimore, MD
Cat's Eye Pub

1730 Thames Street, Fells Point

Opened in 1975, the Cat's Eye Pub is a must-stop for those freewheeling spirits on the lookout for a lively atmosphere .The bar features live jamming music on the bar's somewhat small and intimate stage every night. The main draw is the clientele, which comprises of an eclectic range of revelers of all ages and backgrounds -enjoying searing blues while holding drinks in their hands. Visitors are advised to carry their dancing shoes.

The Brewer's Art

1106 North Charles Street

Brewer's Art bar is a perfect example of the contradiction that characterizes Baltimore's nightlife. The upstairs consists of an upmarket and elegant bar that resembles the living room of a 19th century lawyer .On the other hand, the downstairs section has an underground bar scene that attracts artists, college students and revelers seeking privacy in the shadows. The Brewer's Art is famous for brewing a brown ale called Resurrection,which is arguably the best beer in Baltimore. This bar is a bit north, so get a Baltimore party bus rental and make this a stop!

Max's Taphouse

737 South Broadway, Fells Point

This is a true beer bar that boasts of the biggest selection of draughts and beers in Maryland. Max's Taphouse is known as the joint that predicted the explosion of craft-beer- and it continues to set the pace of beerdrinking in Baltimore. The veteran staff is ready to assist visitors find what they are looking for since they have encyclopedic knowledge of the bar's wide selection that includes lagers, ales, sours, stouts and so on. The bar provides decent bar food which makes the beer drinking more pleasurable. Max's Taphouse must be an essential part of the itinerary for all serious beer connoisseurs visiting the city.

Club Charles

1724 N. Charles St., Charles North

The Club Charles, or Club Chuck, is a relic that never seems to lose its luster even with the passage of time. Featuring darkened mood lighting, an immaculate jukebox, luxurious booths and affordably-priced drinks, this comfortable bar is a living testament of why the city is called 'Charm City'.

The Owl Bar

One East Chase Street, Mid-Town Belvedere

Located in the historical Belvedere, this hotel bar has been a dependable nightlife spot since it was opened in 1903.The ornate bar is adorned with owl insignia, harking back to the prohibition era. It is said that the blinking eyes of the owl indicated that a shipment of alcohol had arrived and the authorities were nowhere in sight. It serves a selection of eighteen draughts, in addition to a mix of old-school and new-school cocktails. The hotel's 13th floor offers a fascinating view of the city. When you need a ride to the Owl Bar, Price4Limo can help you book a cheap Baltimore limo service.
In conclusion, the layout of the city of Baltimore makes it easy to hop from one nightspot to another and it is therefore advisable for visitors to wear comfortable shoes. Whereas it is generally a casual city, it is important to make enquiries before going to any venue in order to avoid getting into problems due to the dressing code. If you really want to party hard in Baltimore, charter buses are the way to roll!