Louisville Nightlife Review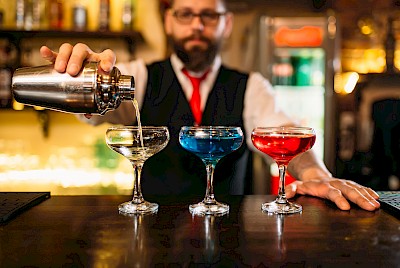 When the evening dawns, the day begins in Louisville, Kentucky. The nightlife features top bars and restaurants to the finest diners in Kentucky. From fantastic movie theatres to fine dining restaurants, Louisville has got it all. With all this, one cannot deny the amazing themed and modern bars that adorn the streets. They feature exceptional cocktails and keeps the party pumping. So if you're looking for a spot to lounge, drink some alcohol and party, Louisville is the place to go. Here are some of the best rated bars in the area.
Top Bars & Nightlife in Louisville, KY
Here are some of the best bars/nightclubs in Louisville:
The Irish Rover

2319 Frankfort Ave, Louisville, KY 40206

This Irish Rover celebrates its 23rd anniversary this year. This pub is popular for its freshly brewed Irish beer as well as its Irish dishes and cuisine. You may sample a selection of Guinness that is shipped from Dublin, a wide selection of Irish Whiskeys and fine wine. It wouldn't be an Irish bar without the finest Bourbon and single malt Scotch, giving you an authentic experience of an actual Irish bar. It is located on Crescent hill on Frankfort Ave, Louisville, KY, but virtually located in the hills of Ireland among the Irish. You can be sure people know how to drink, so be sure to have your Louisville limo rental lined up for the evening.

Magnolia Bar and Grill

1398 S 2nd St, Louisville, KY 40208

This bar is a dimly lit famous dive that feature pool tables, a jukebox and a pinball machine. At Magnolia Bar & Grill, the walls are adorned with beer signs that are old fashioned. Get cheap pours and pints and spend the night experiencing the historic Old Louisville on 1398 S 2nd Street. Note that Magnolia Bar and Grill is cash only, so you might to stop by the ATM before getting there.

The Thirsty Pedaler

400 S 4th St Suite 170, Louisville, KY 40202

The concept of a movable bar has never come to life better than this. This is the only people-driven vehicle where you're allowed to drink and pedal. That's right, pedal. The Thirsty Pedaler is a crowd favourite with public tours of Louisville, a affiliate company driver and a sound system. The 16 seater vehicle is great for a fun night out with friends, get together and families. It features a two hour tour of which is stops at two famous bars. It is located on 400 S, 4th St Suite 170. Talk about arriving in Style…. and beer! No wonder it is rated number one on trip advisor of things to do in Louisville. Our party buses frequent this bar often!

Stevie Rays Blues Bar

230 E Main St, Louisville, KY 40202

This bar was established in the 90s on 230 E Main St, which features live music and entertainment all night. Offering a selection of blues that you can jam along while sipping your cold beer or signature cocktail. It even hosts the world famous Tuesday night Blues Jam which an event that attracts locals and tourists alike. Sip one of their signature vodka and whiskey cocktails as you chase your blues away, literally. If you need a place to sleep after a long night of boozing, check out these affordable hotels nearby.

Saints Pizza Pub and Sky Bar

131 Breckenridge Ln, St Matthews, KY 40207

This bar is a party favourite mostly for the mature crowds. Featuring a large dancefloor, guests can party all night long as they enjoy seasonal rotating taps and a wide selection of top-shelf liquor and signature cocktails. You can chose from their hand crafted well kneaded pizzas from the smoker on the rear patio, serving smoked pizza. Pizza has never tasted so much better with liquor. They also feature weekly live events, shows, awesome deejays and live music keeping you entertained throughout the night. Saints Skybar on 131 Breckenridge Ln, is definitely a great place to meet.
Louisville is a vibrant city with unlimited things to do in the night. There are countless number of bars and dives that you and your friends can indulge in as you explore the famous Louisville in the heart of Kentucky. If you want to start a pub crawl in the area, hire our bus charter service for the evening. The night life is one experience you will never forget.