Famous People from Atlanta, Georgia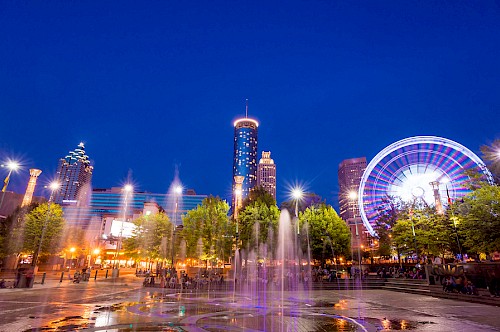 Atlanta, Georgia is known for its awesome people, rich history, and beautiful tourist attractions. But that's not all. It is also a land of superstars. Several great musicians, actors, and celebrities hail from the area. Are you ready for a surprise? Here are 5 famous faces you probably didn't know were natives of Atlanta:
Top 5 Famous People from Atlanta, GA
Kelly Rowland

Kelendria Trene Rowland is an American singer, actress, songwriter and television personality. She was born in 1981 in Atlanta to Christopher Doris Rowland. In the late 1990s, she rose to fame as a member of R&B girls group, Destiny's Child. While the group was on hiatus, Kelly Rowland released Simply Deep, her first album which sold millions of copies globally. Some of best songs on the album include Dilemma featuring Nelly.

Since then, she has gone ahead to produce her second, third and fourth albums featuring hit songs like Motivation, Work, Commander and Like This. Apart from singing, she has also been a judge on The X Factor UK (Season 8) and The X Factor USA (third season). In addition, she hosted Chasing Destiny in the year 2016 and worked as a coach on The Voice Australia (2017). Kelly's work has earned her several nominations and awards including 2 Grammy Awards.=

Kanye West

Kanye Omari West is an American entrepreneur, rapper, fashion designer, songwriter and record producer. He was born in 1977 in Atlanta to Donda and Ray West but raised in Chicago. Though Kanye West is known mainly for his colorful antics, he is an award-winning musician whose work has earned him over 20 Grammy Awards. In 2004, he released his debut album, The College Dropout, which was considered largely a success by critics. Since then, he has produced several other albums including My Beautiful Dark Twisted, Yeezus and Fantasy and The Life Of Pablo.

As a fashion designer, Kanye has collaborated with several brands like Adidas, Nike and Louis Vuitton to design footwear and clothing. He is married to Kim Kardashian and has two kids, North and Saint. You might see them downtown riding in an Atlanta limo!

Ryan Seacrest

Ryan John Seacrest is an American producer, television host and radio personality. He was born in 1974 in Atlanta to Gary Lee Seacrest and Constance Marie. He is popularly known for hosting the talent competition show, American Idol in 2002. However, Ryan Seacrest has also hosted several other shows including On Air With Ryan Seacrest (KIIS-FM radio show), American Top 40 and Live With Kelly and Ryan.

Raven Symone

Raven-Symone Christina Pearman is an American singer, producer, actress, songwriter and television personality. She was born in 1985 in Atlanta to Lydia and Christopher Pearman. She began her television career in 1989 on the Bill Cosby Show where she played the role of Olivia Kendall. Since then, she has starred in several other television series and films including That's So Raven, Revenge of The Bridesmaids (famous party bus scene) and Empire. She has also released several music albums like This is My Time. In 2015, Symone joined ABC's The View.

Chloe Grace Moretz

This American model and actress was born in 1997 in Atlanta. In 2004, she started her acting career when she was only 7 years old. Some of the movies she has starred in are The Amityville Horror, Let Me In, If I Stay and Kick-Ass 2. As a model, she has worked with publications such as Elle, Claire, Vogue and Marie.
These are some of the famous people from Atlanta, Georgia. Next time your walking down the street or are on a charter bus, look around to see if you can spot a celebrity! Which of them came as a surprise to you?