Popular Events & Conferences in Gainesville, Florida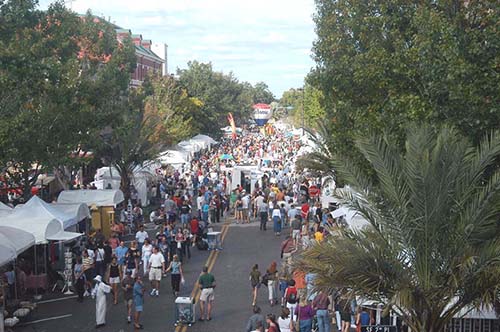 Gainesville always has something going on. Numerous events and festivals occur throughout the year. Below are some of the more popular events that take place in this city.
Here Are 7 of the Most Anticipated Events in Gainesville
1. The Spring Arts Festival

This annual art event is one the most popular and largest in Gainesville featuring some the best and unique local artworks. The Spring Arts festival is hosted by Santa Fe College in early April.

2. Women's Entrepreneurship Symposium

The University Of Florida Center for Entrepreneurship & Innovation is presenting this year's Women Entrepreneurship Symposium. The symposium will feature successful businesswomen such as Gina Butler, founder of Gigi's Cupcakes, Chloe Epstein of Chloe's Fruit and several others. This half-day event will be filled with inspirational talks, sharing and learning on the endless possibilities of women entrepreneurship.

3. The Downtown Festival and Art Show

This nationally-recognized event attracts over 100.000 visitors and is hosted by the city of Gainesville. It is held each fall and features works by award-winning artists. From the streets of downtown Gainesville, to the Hippodrome State Theatre and City Hall, everything becomes a tribute to artistic creativity. The festival features live music, delicious food, performing arts and of course, various works from 240 national and local artists.

4. The Fest

Held each year since 2002, this underground music event is celebrated in a number of different venues in a span of several days. Venues for the event would usually include bars or big concert halls in downtown Gainesville. This musical event is largely pop-punk and punk rock, but it has shared the stage with a good number of hardcore punk, ska, metal, and indie punk groups through the years. The Fest is held each year, in time with the Florida-Georgia football game weekend.

5. Hoggetowne Medieval Faire

The Hoggetowne Medieval Faire is held in the Alachua County Fairgrounds over two consecutive weekends. The fairground is transformed into a busy medieval marketplace filled with over 160 craftspeople and artisans selling all sorts of goods which include hand-blown glassware, jewelry, medieval clothing, wood carvings, and more. Watch singers, dancers, magicians, and gypsies complete with period costumes, and armored knights mounted on horses jousting.

6. The Gainesville Improv Festival

This four-day celebration in Gainesville is a tribute to improvisational and sketch theater. The aim of the festival is to impart the cultures and traditions of the improvisation scene in Gainesville to the rest of improv community in the US.

7. IMPACT

The Loss Prevention Research Council in Gainesville will offer this two-day conference which aims to arm retailers with a clearer operational understanding of the use of research approaches to reduce the incidence of crime and loss, and improve sales. IMPACT is composed of sessions that involve panel discussions, presentations and Learning Labs.
Traveling to any of these events with a group can be a hassle, but not with Price4Limo's transportation services! For large groups renting a charter bus in Gainesville, FL is the best choice since they can usually seat upwards of 50 passengers. If you're looking to be flashy or impress your guests then our Gainesville limo service can find the perfect vehicle to entertain everyone with. We also offer sports team transportation if you have an away game.