Charter a Bus For Your Port St. Lucie Wedding
Planning the perfect wedding can be both exciting and challenging, but at Price4Limo, we understand that every detail matters. That's why we take pride in offering supreme transportation solutions for couples tying the knot in Port St. Lucie, Florida. With a diverse fleet of stylish and luxurious buses, your guests will arrive at your special day with ease and grace.
Price4Limo specializes in providing bus rentals for weddings throughout the Port St. Lucie area. There are stunning vehicles catering to various group sizes while ensuring everyone arrives at the venue on time and without hassle. For out-of-town visitors unfamiliar with the locale or local attendees who prefer a relaxing ride, our buses add an extra touch of convenience and sophistication to your big day. In addition to comfortable seating and inviting interiors, our well-maintained buses come equipped with air conditioning for those warm Florida days as well as ample storage space for gifts and personal items. At Price4Limo, it's not just about getting your loved ones from point A to B; it's about creating a memorable experience on this once-in-a-lifetime occasion.
Streamlined Wedding Transportation in Port St. Lucie
Nestled in the scenic beauty of Florida's Treasure Coast, Port St. Lucie offers a charming and magical setting for celebrating your wedding with elegance and style. Picture-perfect venues such as The Castle Hall or The Legacy Golf & Tennis Club offer unforgettable backdrops for any wedding theme or size. At Price4Limo, we understand that seamless transportation is vital to making your special day memorable and stress-free. From large, luxurious weddings to cozy, intimate gatherings, Price4Limo has an extensive fleet of stylish vehicles that cater to your unique needs. Let us elevate your wedding experience with our customizable services tailored specifically for you - select from spacious 56-passenger coaches for grand celebrations or opt for minibuses that can comfortably seat between 18 and 35 guests. Trust Price4Limo to take care of every aspect of your wedding transportation needs in beautiful Port St. Lucie – from elegant arrivals to cherished departures – ensuring an enchanting experience that both you and your guests will treasure forever.
Airport Shuttles For Out Of Town Guests
When your wedding is just around the corner and you've got out-of-town loved ones flying in for the festivities, Price4Limo is here to help you make their stay a breeze. With airport shuttle and transfer services, your beloved guests can travel worry-free from the Treasure Coast International Airport to hotels or your wedding venue with comfort and ease. Say goodbye to rental car hassles, rideshare uncertainties, and the complication of using public transportation in an unknown city – let us at Price4Limo be their reliable guide! By working closely with you, we'll create a smooth itinerary that ensures all attendees reach their destinations promptly so they can fully immerse themselves in celebration mode. Tailoring our services to accommodate each unique need allows us to provide unforgettable experiences that will leave a heartfelt impression on those who matter most during your special day.
Shuttle Guests Between The Ceremony & Reception
Maintaining a timely and well-organized wedding day is essential for ensuring all your guests can fully enjoy the occasion. With Price4Limo, planning transportation between your ceremony and reception in Port St. Lucie, Florida becomes easy and stress-free. Our shuttle service will keep everyone together and on schedule, so you won't have to worry about anyone getting lost or being late. Let us take care of the transportation so you can focus on creating unforgettable memories with your loved ones.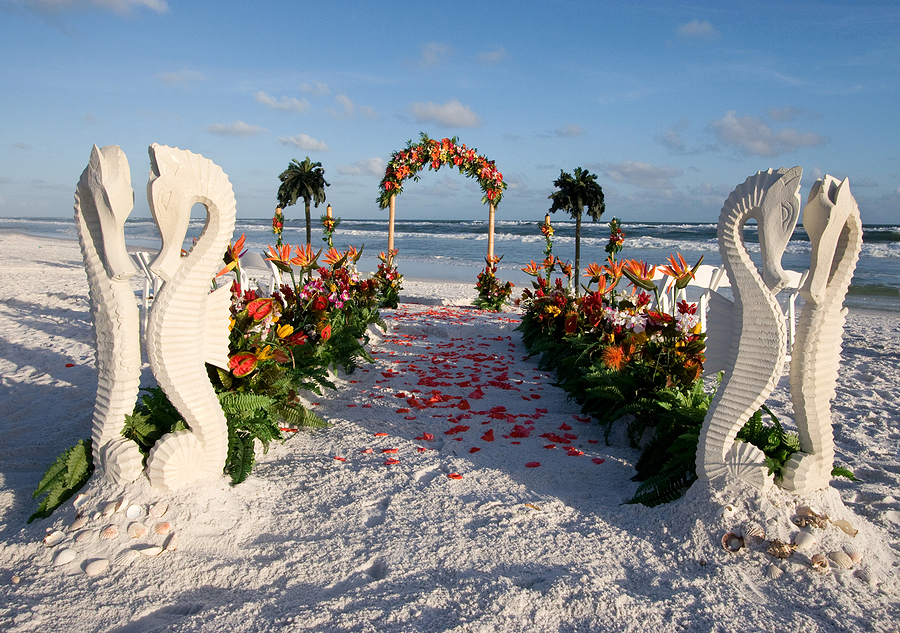 Here are a few ceremony-to-reception routes to consider for your wedding:
1. Tradition Town Hall to Kyle G's Prime Seafood & Steaks
Distance: 5.7 miles; Estimated travel time: 12-15 minutes
Exchange vows at the elegant Tradition Town Hall, an inviting venue that can accommodate various sizes of gatherings while offering a serene setting for your special day. Then, treat your guests to an unmatched culinary experience at Kyle G's Prime Seafood & Steaks, where they will savor exquisite meals amidst stunning waterfront views.
Tradition Town Hall - Address: 10799 SW Civic Ln, Port St Lucie, FL 34987 - Phone: (772) 871-5219
Kyle G's Prime Seafood & Steaks - Address: 10900 S Ocean Dr., Jensen Beach, FL 34957 - Phone: (772) 237-5461
2. Oak Hammock Park to Riverwalk Center
Distance: 11 miles; Estimated travel time: 20-23 minutes
Celebrate your love under a canopy of ancient oak trees at Oak Hammock Park - a truly romantic location within Port St Lucie's natural beauty! Following the ceremony, whisk your guests away on a scenic ride to Riverwalk Center, where they'll enjoy splendid views of St. Lucie River as they celebrate during the reception.
Oak Hammock Park - Address: 1982 SW Villanova Rd, Port St Lucie, FL 34953 - Phone: (772) 878-2277
Riverwalk Center - Address: 600 N Indian River Dr, Fort Pierce, FL 34950 - Phone: (772) 489-6473
Bachelor and Bachelorette Party Shuttles Around Port St. Lucie
Port St. Lucie is a fun place when it comes to hosting bachelor or bachelorette parties. Start your adventure by renting a party bus from Price4Limo. With comfortable seating, high-quality amenities like WiFi and entertainment systems, your private bus will ensure that the celebration never stops while you're exploring Port St. Lucie.
In this sun-soaked paradise, every moment is worth cherishing - starting with beach-bumming in Jensen Beach Park. Soak up the sun on this picturesque stretch of beach and sate your appetite for thrills with adventurous water sports like paddle boarding or surfing. And if you prefer golf clubs over surfboards, Port St. Lucie offers premium courses within close proximity, such as the PGA Golf Club or The Legacy Golf & Tennis Club. You can even swing by Summer Crush Vineyard & Winery for a lovely tasting experience amidst acres of lush vineyards.
As dusk rolls in, take your bachelor or bachelorette party to lively spots around Port St. Lucie - Island Root Kava Bar Port Saint Lucie offers an energetic atmosphere perfect for game night with friends; Tavola Pizza tempts taste buds with mouthwatering pies and refreshing brews; SideDoor Nightclub offers an irresistible combination of great music and vibrant energy to dance the night away.
Trust Price4Limo's transportation services to whisk you and your crew between locations effortlessly so that everyone can simply focus on reveling in each other's company throughout the festivities. Your bachelor or bachelorette extravaganza in Port St. Lucie awaits – all aboard for an epic celebration!
Book Your Port St. Lucie Wedding Shuttle With Price4Limo
Your wedding day is fast approaching, and there's so much to plan! Let Price4Limo handle the transportation aspect, making it one less thing for you to worry about. Our dedicated team is available around the clock at (866) 265-5479 to help you select the ideal vehicle for your special day in Port St. Lucie, Florida. All we need from you is an estimated guest count and a rough outline of your schedule – then sit back, relax, and let our experts craft the perfect transport solution tailored just for you. At Price4Limo, we pride ourselves on providing unique experiences backed by exceptional service – so when it comes to booking wedding transportation in Port St. Lucie, we've got your ride covered!