San Diego Nightlife Review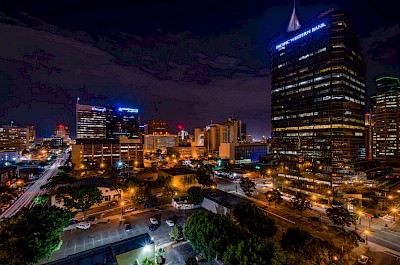 San Diego is famous for its stunning beaches and its happening nightlife. The pleasant weather throughout the year also makes it the perfect party destination. Here are some of the top San Diego Nightlife Destinations:
Top Bars & Nightlife in San Diego
Here are some of the best bars/nightclubs in San Diego:
Fluxx

500 4th Avenue, CA-92101

Located right in the heart of the city, Fluxx is one of the hottest nightlife destinations in San Diego. The interior of the Fluxx always changes. Whenever you come, you will get to experience a new theme. That is why this place never gets repetitive. Fluxx is famous for hosting some amazing musical performances. You will also get to see many celebrities partying here. However, make sure that you come in proper attire or you might not be allowed. Although Fluxx has residential DJ's, they frequently invite national level DJ's to come and perform. Tell all your friends to jump on the party bus and head over to Fluxx!

Hamilton's Tavern

1521 30th Street, CA- 92102-1503

If you are a beer lover, then this is definitely the place to be. You will find some of the oldest and rarest kinds of beer here. In case you are confused because of the huge list of beers, the staff over there will help you pick one. For entertainment, there is foosball, shuffleboard and a pool table. The environment is very lively here. Apart from the wide variety of beer, they also have an extensive food menu. The place is dimly lit and you will also find many locals here.

Cannonball

3105 Ocean Front Walk, CA-92109

The best thing about Cannonball bar is definitely the location. It is one of the best rooftop oceanfront bars in San Diego, which offers you a stunning view of the entire beach. For drinks, they have a wide collection of Japanese whiskeys. Apart from that, you should also try out their unique cocktails. For example, their cocktail ' Fuji Apple Pie' is extremely famous. You can also try out their sushi. And since it is just near the beach, you also get the opportunity to visit the beach anytime you want.

The Office Bar

3936 30th Street, CA-92104

This bar is located right in the middle of North Park, one of the hippest neighborhoods in San Diego. They have a wide collection of wine and beer. It is basically a bar. But after 9 PM, the entire place turns into a nightclub with the DJ playing some of the most hit songs of California. They don't serve food. But you are allowed to bring food from outside. When your done from work, call a limo service and tell them you want to go to the Office!

The Tower Bar

4757 University Avenue, CA- 92105-1918

It has a unique design and is one of the most popular bars in San Diego. It is an old school rock bar. They frequently play popular rocks songs of the 70's or 80's. They also support the local musicians and gives them an opportunity to perform live. The prices here are also on the lower side. There are also some affordable hotels in the area if you need to get a room
Thus we see that San Diego has plenty of nightlife options. No matter what you drink, you will definitely find a bar of your choice. And if you want to enjoy the views of the beach, you can visit any of the beachfront bars. Want to setup a bar crawl in San Diego. Price4Limo can provide the charter bus or shuttle bus needed to get your from bar to bar nice!