Los Angeles Nightlife Review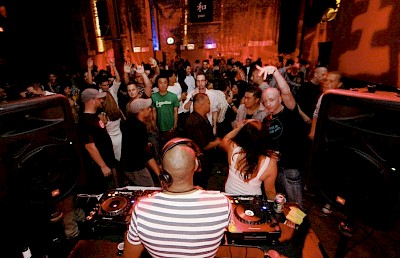 When darkness falls, life gets a little bit wilder in Los Angeles. Dance clubs, cocktail lounges, comedy venues, live music and bars — the list of venues to enjoy night entertainment in this beautiful and ultimately exciting city is endless. There are all kinds of clubs in Los Angeles that will meet a range of needs. But much like other nightclubs in the country, you need to know what the club or bar you intend to visit offers as well as the people it caters to in order to have a pleasant evening.
Top 5 Bars & Nightclubs in Los Angeles, CA
Part Time Punks

1822 W Sunset Blvd 90026 Los Angeles, California

For hot and exciting nights, it does not get more authentic than Part Time Punks. The club takes music of the 60s and 70s and turns it into modern music every Sunday night. The Sunday night event focuses on DIY and music of the past: Synthpop, Punk, Synth-Punk, Post-Punk, Minimal Synth, New Wave, NDW, Industrial, No Wave, C86, Indiepop, Baggy and Twee, Shoegaze. The DJs dig deeper in their crates to bring guests unique grooves from the '60s and early '70s. While the tunes are not up-to-date, the moves on the dance floor are.

The Rooftop Biergarten

550 South Flower Street Los Angeles, CA 90071

If dancing is not your cup of tea but a cocktail is, Los Angeles boasts a wide selection of bars to try. For a stylish scene, visit The Rooftop Biergarten. Enjoy German classics made by an Austrian chef featuring pretzels, strudels, weiners and beer on their stylish rooftop garden. There is a huge selection of wines and beers to tempt any connoisseur. There are also waterbed cabanas as well as a live DJ every night. With one of the finest views in all of Los Angeles, the bar offers a quintessential experience. If you want to arrive in style let Price4Limo find you an affordable limo company in Los Angeles.

The Sayers Club

1645 Wilcox Ave. Los Angeles, CA 90028

The Sayers Club is among the most-loved music rooms in Los Angeles thanks to its spontaneity and star-power. At The Sayers Club, nightlife options are endless, which is why it attracts Los Angeles' elite and some of the best artists in the music world including Emmy Rossum, Mark Ballas and Grammy-winning artist Stevie Wonder. Food is available if you are feeling hungry, while there is a set of drinks to sip before the show starts. If you are not on the guest list, getting inside this club might be a challenge.

Elevate Lounge

811 Wilshire Blvd. Los Angeles, CA 90017

If you love crowded rooms, bottle services and hip-hop music, try Elevate Lounge. Situated 21 floors above the streets of Los Angeles, Elevate Lounge is a stylish nightclub with diverse crowds and lively music. Boasting a breathtaking view of the city's skyline, Elevate Lounge offers an exquisite space with a unique indoor/outdoor setting thanks to its wide windows that remain open throughout the night. There are also feel-good tunes and bottle service, making this club a perfect setting for big party with family and friends. If you need transportation services there are many Los Angeles party bus rentals available for the night.

Greystone Manor

643 N. La Cienega Blvd. Los Angeles, CA 90069

Greystone Manor boasts a fashionable venue other club can compete with. Thousands of locals and tourists alike come to this supper-club between Thursday and Saturday in a bid to tell their friends back home that they shared the same venue with the likes of Chris Brown, Jennifer Lopez, Rihanna, among other Hollywood stars. The simplest way to get inside is to purchase tickets, book a dinner, reserve bottle service, or purchase a VIP fast pass so you can evade long queues. If you want to arrive with all your friends in one vehicle, LA bus charters are available for hire.
There you have it! 5 best bars and nightclubs in Los Angeles. Anyone who tells you that Los Angeles nightlife is boring has not been to the right places. The city has a lot to offer. Whether you are in the mood for music, comedy, or whiskey, Los Angeles has it all.