Budget Hotels in Bakersfield, California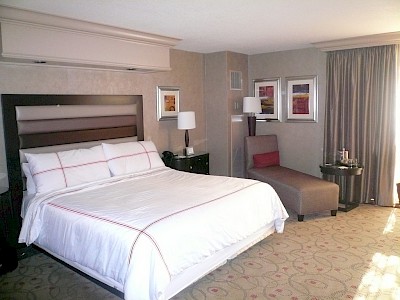 Bakersfield is a very popular city in California and is visited by plenty of people throughout the year. You will find a good amount of budget hotels here. Some of the best Budget Hotels in Bakersfield are:
5 Affordable Bakersfield Hotels
La Quinta Inn and Suites

8858 Spectrum Park Way, Bakersfield, CA 93308

This is one of the most popular budget hotels in Bakersfield. The location is very convenient. Both the Kern Museum and the Owens Crystal Palace is a very short drive from here. When you book a room here, you are assured a hassle free and comfortable stay. The complimentary breakfast is also really good. They provide a wide variety of items. From fresh fruits to waffles to cereals, you will find almost everything here. They also provide free accommodation to kids under the age of 18 provided they come with their parents or grandparents. If you are traveling as a group, and need parking for a charter bus or shuttle, this hotel has plenty of room.

Hampton Inn and Suites

8818 Spectrum Park Way, Bakersfield CA 93308

Located very near to the airport, Hampton Inn and Suites also a very good option if you are looking for a budget hotel. There are 94 well-furnished rooms in this hotel. All the rooms are also equipped with all the basic facilities like custom designed beds, microwave, coffee maker and a TV. You will also find an outdoor pool here which is open for all the guests. Apart from that, free parking is provided to everyone. Free Wifi is also there in all the rooms. If you need transportation to or from the airport Price4Limo can arrange service from a Bakersfield limo company for you.

Homewood Suites

1505 Millrock Way, Bakersfield, CA- 93311

Located nearby all the major corporate houses, Homewood Suites is a very popular budget hotel in Bakersfield. It is also very close to the Market Place, which is an entertainment center and has plenty of shops and restaurants. Apart from the complimentary breakfast, they also provide complimentary drinks and light dinner to all the guests during Mondays to Thursdays. There is also a fitness room which has all the equipment you need for a workout. Apart from that, they also have a meeting room which can accommodate around 67 people at once.

Courtyard Bakersfield

3601 Marriot Drive, Bakersfield, CA 93308

Located within a walking distance of the Owens Crystal Palace, this budget hotel provides great services to all their clients. They also have an American Restaurant where you will find all kinds of American Cuisine and also Starbucks Coffee. They also provide great facilities to the corporate houses. There are 2 separate meeting rooms and a business center which is equipped with workstations, printers and all the other necessary equipment.

Spring Hill Suites

3801 Marriot Drive, Bakersfield, CA 93308

Located right in the heart of the city, this is the ideal option if you want to visit all the tourist attractions in Bakersfield. They have a wide variety of rooms. Apart from the basic rooms, you can also book the King Suite if you are looking for some luxury. They have a well maintained indoor swimming pool. Apart from that, a business center is also there to cater to all the corporate houses. If you're out for an evening with a party bus rental in Bakersfield, this is a good place to get a room.
Thus, if you are looking for a budget hotel, there are various options. Some of them are located right in the middle of the city. Some of them are also close to the airport