Best Restaurants in Los Angeles, California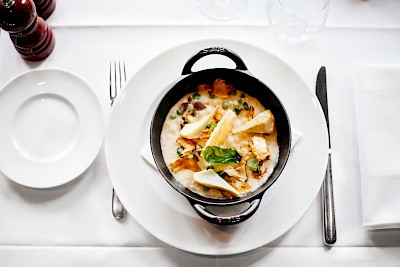 Los Angeles is one of the most popular and happening cities in the world. There are so many things to do and places to visit here. Whether you're visiting or living here, there are some restaurants not to miss. Here, there are quality restaurant in almost every neighborhood. Let's take a look at our top 5 best restaurants.
Top 5 Restaurants in Los Angeles, CA
Providence

5955 Melrose Avenue, Los Angeles, CA 90038

If you are looking for a fine dining restaurant in Los Angeles, then Providence is definitely the best choice. This place is extremely reputed for their seafood cuisine and has won several awards. Chef Cimarusti runs this place and he makes sure that all the ingredients are fresh. The atmosphere is also very good. It is slightly dark and has a mysterious feel to it. The good thing about them is that in case you have some allergies, they will prepare off menu dishes especially for you. They also have a small bar which serves a wide range of drinks. For an evening to remember, hire a Los Angeles limo service and go grab a bite from Providence.

Bren's Delicatessen and Restaurant

19565 Parthenia Street, Los Angeles, CA 91324

If you want to have some delicious breakfast in Los Angeles, then you can't miss Bren's Delicatessen & Restaurant. They make the best pancakes in Los Angeles and the servings are huge. One pancake will be enough for 4 people. Their French Toast is also very delicious. Their menu list is huge. There will be something for everyone. The interior of the place is very well decorated. But the place generally always stays crowded. Hence, it will be better to come a bit early to avoid the rush. After a long night for celebrating in a LA party bus rental, stop here for a big breakfast!

Sushi Gen

422 E 2nd St, Los Angeles, CA 90012

This place is a must visit if you want to try out some sushi in Los Angeles. Established in 1980, it is one of the most popular restaurants in Los Angeles. The sushi served here is extremely fresh and beautifully cooked. Since it is located in Little Tokyo, you will also find plenty of Japanese people here. The service over here is also really good. Upon entering the restaurant, you will be greeted by a waiter who will explain you in details about the dishes and will guide you if you are having sushi for the first time. Many Hollywood celebs enjoy eating at Sushi Gen.

The Ivy

113 N Robertson Boulevard, Los Angeles, CA 90048

The Ivy is also an extremely popular restaurant in Los Angeles. The first thing which will strike you upon entering is the colorful interior. The tables are also beautifully decorated with flowers. The waiters over there wear white jeans, pink shirts along with floral ties. Thus, the entire set is really colorful and pleasing to the eyes. Coming to the food, you should definitely try out their sandwiches. You will also find plenty of seafood dishes here. Their lobsters and oysters are really good.

Musso and Frank Grill

6667 Hollywood Blvd, Los Angeles, CA 90028

Established in 1919, this is one of the most iconic restaurants in Los Angeles. Visiting this place is like taking a step back in time. The servers over here are also very friendly and if you want, they will tell you interesting stories about this place. The steak over here is extremely famous. You should also try out their salads. Their Martinis are well known all over the town.
Thus, if you are looking for a restaurant in Los Angeles, you will be spoilt for choices. From American Cusine to Italian and Japanese Cuisine, you will find almost everything here. If you want to experience a little bit of everything, book a charter bus in Los Angeles with your friends and make stops at each of the spots listed above!