Employees Let Loose and Bond at Office Parties
Key Takeaways
33% of respondents have danced with a co-worker, 17% have flirted with one, and 14% have kissed a co-worker during a work event.
1 in 10 corporate Americans have blacked out at an office party.
14% of respondents have been fired following an office party, losing an average salary of $60,597.36.
Return to Office Parties
Since March 2022, rising vaccination rates have provided many companies the option to open their doors to formerly remote workers. With more people returning to the office, hybrid work – a combination of remote and in-person employment – has become the most popular work arrangement in the U.S. While this transition means in-person meetings and collaboration are normal again, it also means that the drama of the office party is once again part of many Americans' social lives.
To identify what employees want from these festivities, how they tend to party, and what the aftermath looks like, we surveyed more than 1,000 corporate Americans who have attended a party in the last year. Read on to find out how people are embarrassing themselves at these events and what repercussions they've faced in the aftermath.
What Employees Want
Any successful corporate shindig should involve letting off some steam and bonding with co-workers. But what components does an office party need to succeed?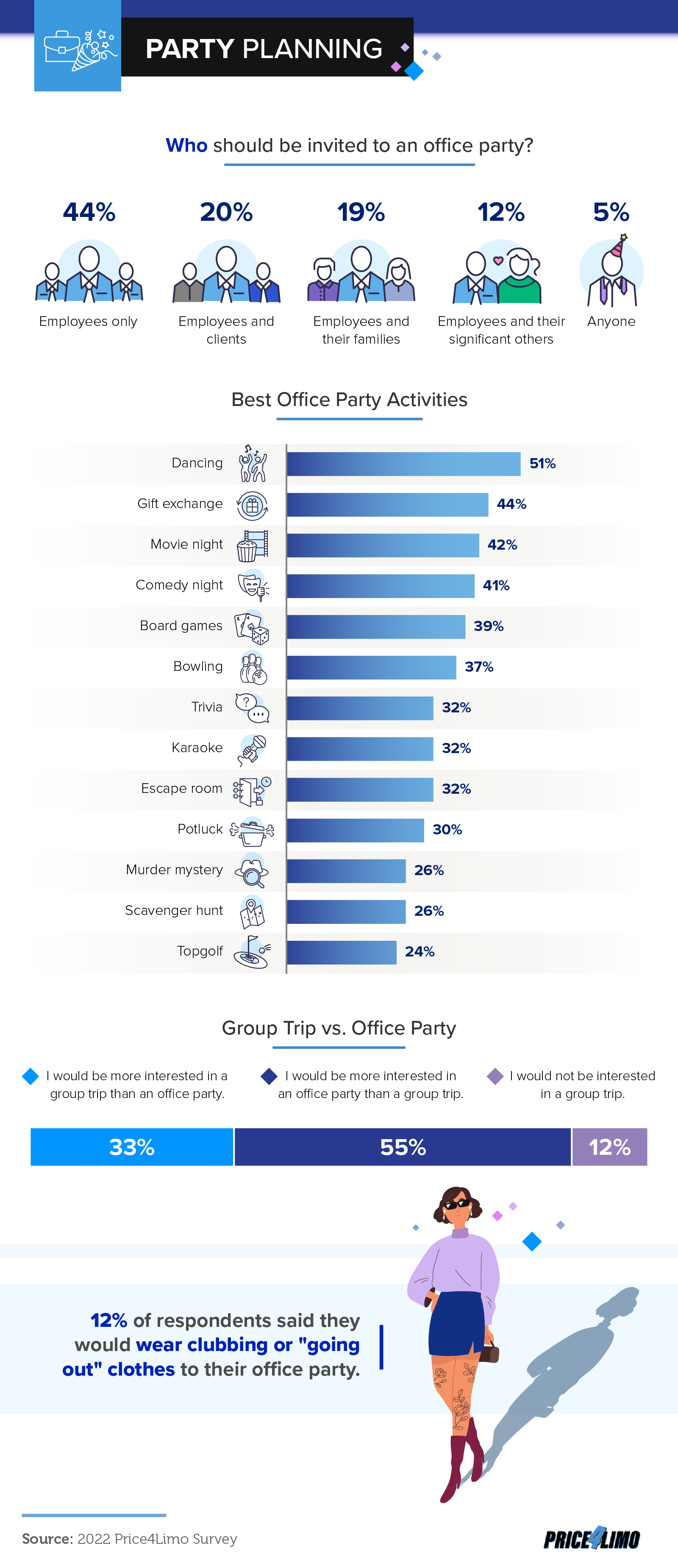 Most would prefer to keep their work lives separate from their personal ones: Nearly half of corporate Americans (44%) would like parties to be exclusive to fellow employees. Only 1 in 5 would extend an invitation to clients, and about the same number would also include family members. Gen Z was the most likely to think an office party should be limited to only employees and staff (50%), while millennials were the most likely to think their whole family should be invited (21%).
As for office party activities, over half of corporate Americans (51%) wanted a dance party. Some employees were ready to dress the part: 12% said they would wear clubbing or "going out" clothes to their office party. Other favorite activities included low-key options like gift exchanges (44%), movie nights (42%), comedy nights (41%), and board games (39%). Employees also thought the best reason to have a party was for the company's anniversary (68%), followed by the winter holidays (51%).
Group work trips are another great way to foster bonding at work. But when pitted against the traditional office party, one clear winner emerged: Most corporate Americans preferred a party (55%), and 12% weren't interested in group trips at all. A single night with the team might be more appealing and doable for employees than a multiple-day trip, like a corporate retreat. However, remote workers were the most likely to opt for a group trip: only 5% said they weren't interested.
Proper Conduct
Corporate culture requires a certain level of professionalism and etiquette. Office parties can range from lifeless to spirited, depending on who's in charge. Here's a peek at the shenanigans that some people got up to at their last office party.

Some of us need help loosening up around co-workers. The most popular intoxicant for this was alcohol, with 41% of corporate Americans having imbibed at a company party. Fortunately, less than a quarter have gotten fully drunk. Illegal drugs like weed, hallucinogens, and cocaine were less common but still reportedly used by 10-14%. Perhaps these inhibition-reducing substances led to some of the misbehaviors that took place.
Older generations took things the furthest: Baby boomers were most likely to flirt with or kiss a co-worker, boss, or client, while Gen Xers were most likely to hook up with one. Luckily, the most common social behaviors overall were dancing with a co-worker (33%), boss (27%), or client (25%). The youngest employees – Gen Zers – were most likely to dance with someone and more apt to do that instead of drinking alcohol. Good for them.
Not everyone is comfortable letting loose in front of their co-workers: 20% of respondents said they decided to work through an office party, and 16% reported standing alone in a corner. How sad! The lesson here is to relax, have fun, and connect with those you work with – but know your limits and stick to them.
Handling the Fallout
Actions always have consequences, some worse than others. If you've had a less than stellar night out with your workplace team, there could be some negative fallout afterward.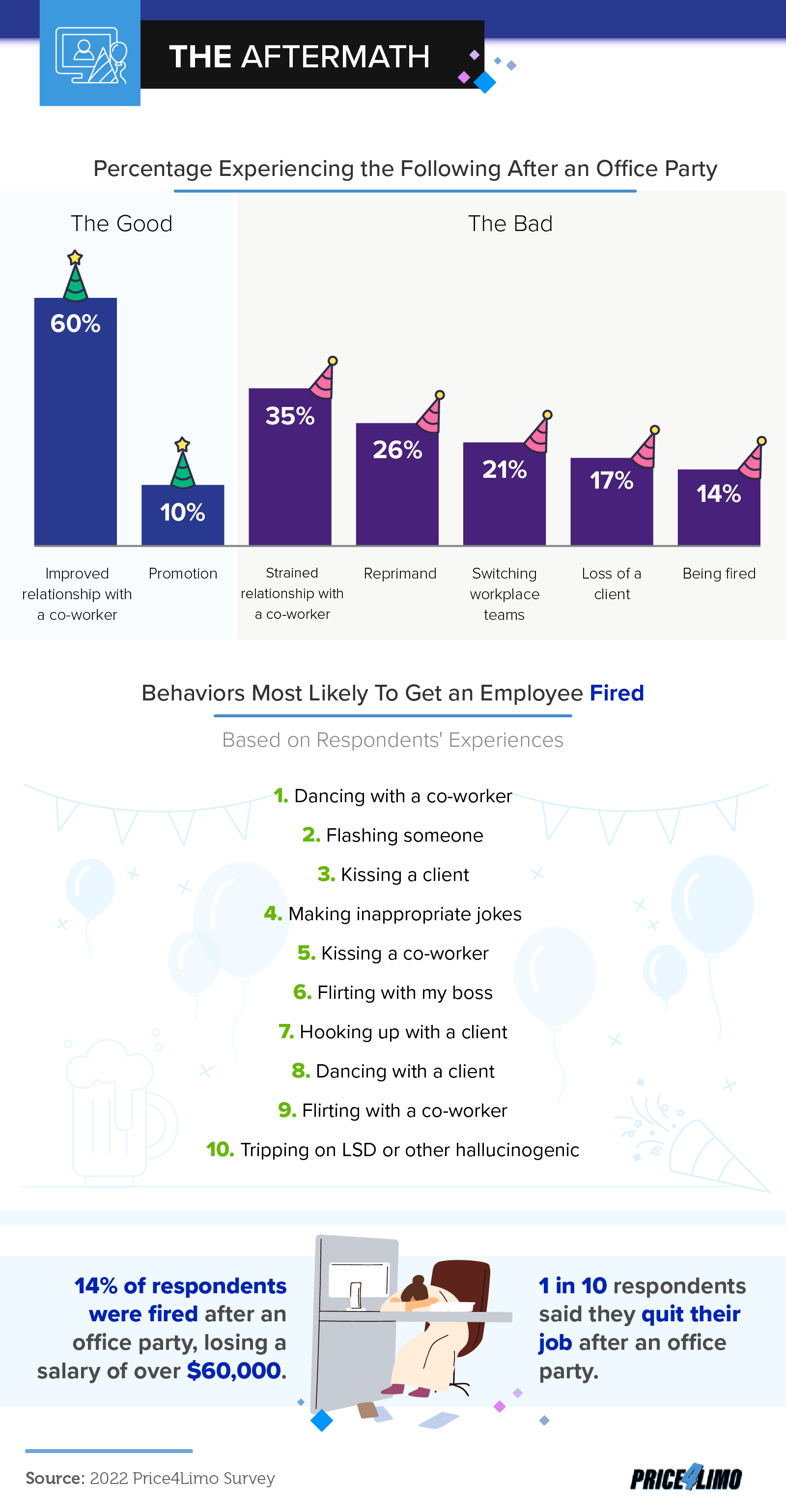 Many employees experienced positive results when it came to the aftermath of office parties. Most reported an improved relationship with a co-worker (60%), and 1 in 10 even got promoted. But others had their fair share of negative experiences. Strained relationships with co-workers (35%), being reprimanded (26%), and switching to a different team (21%) were other common experiences post-party consequences.
Fortunately, getting fired was the least common result, with 14% having lost their jobs shortly after an office party. The top five fireable offenses were dancing with a co-worker, flashing someone, kissing a client, making inappropriate jokes, and kissing a co-worker. While flashing someone was considered less problematic than dancing with a co-worker, we don't recommend doing either.
The pressure on bosses to throw a good party factors in more than just the festivities; they must also keep their behavior professional. Forty-three percent of respondents said their perception of their boss had worsened after the party. No one wants to work for someone they don't respect, so business leaders need to make an effort to maintain workers' trust and confidence – especially while partying.
Planning the Perfect Party
A successful corporate office party allows employees to relieve stress while they connect and bond. The perfect way to accomplish that might be an employees-only dance party, as many may appreciate the opportunity to drink alcohol in moderation and dance the night away. As for the aftermath, most employees didn't have negative experiences. But among those who did, common examples were strained relationships at work, reprimands, and changes to workplace teams. So, the next time you let loose at a corporate office party, there's no need to stress about being fired – depending on how you danced with your co-workers.
Methodology
We surveyed over 1,000 corporate Americans who have gone to an office party in the past year or were planning to in the upcoming year. Among our respondents, 10% were baby boomers, 23% were Gen X, 57% were millennials, and 10% were Gen Z. For additional work style breakdowns, 56% worked in person, 23% worked remotely, and 21% worked hybrid.
About Price4Limo
Price4Limo offers travelers and eventgoers a one-stop shop for all their transportation needs. Consumers can compare photos, pricing, and availability for all different types of vehicles in one convenient place.
Fair Use Statement
Do you think this article is insightful or entertaining? Feel free to share it with your friends. We just ask that you do so for noncommercial purposes and that you link back to this page.