The Most Complained About Airlines and Airports
Key Takeaways
Southwest Airlines has the most flight problem complaints (35%)
United Airlines has the most customer service complaints (24%)
Frontier Airlines has the most complaint tweets on Twitter, with 31 per 1,000 tweets.
Hartsfield-Jackson International Airport (ATL) and Baltimore/Washington International Airport (BWI) are the most complained about airports on Twitter, each with 27 complaint tweets per 1,000 tweets.
Frequent Fliers Beware
Flying often presents challenges, no matter what airlines you use or which airports you fly in and out of. But some carriers and locations have a better reputation than others. Customer reviews and complaints can be useful when choosing an airline or airport. To help minimize travel headaches, we used Twitter and U.S. Department of Transportation (USDOT) data to identify the most complained about airports and airlines. Read on to find out which you may want to avoid on your next trip.
High-Flying Frustrations
Every airline has hiccups and unavoidable delays due to weather, but larger issues like mass flight cancellations, rude or unhelpful team members, and poor scheduling lead to major frustrations for passengers. We turned to the USDOT Airline Consumer Reports to see which major U.S. airlines have the most consumer complaints overall and by service category.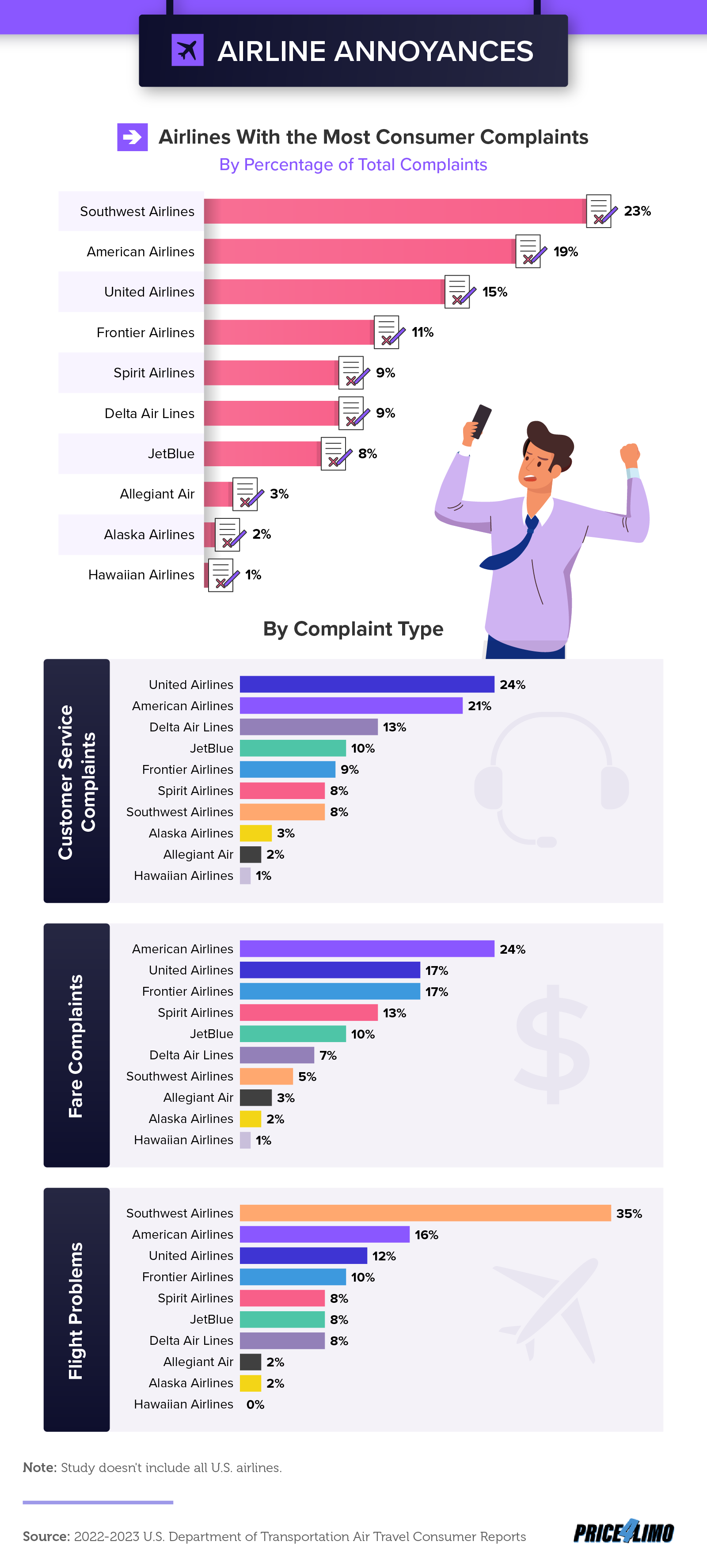 Among the airlines we analyzed, Southwest had the highest number of complaints in the past year, totaling almost one-quarter of all consumer complaints (23%). A majority of Southwest's grievances regarded flight problems (35%). On the other end of the scale, with only 1% of consumer complaints, Hawaiian Airlines had the fewest complaints overall and in each category.
United Airlines is one of the largest carriers in the U.S., and it had the most customer service complaints (24%). American Airlines ranked at a close second with 21%. Alaska (3%), Allegiant (2%), and Hawaiian Airlines (1%) seemed to keep their customers happy with superior customer service. The airline with the most fare complaints was American Airlines (24%), with Frontier and United tying for second with 17% each.
Airlines Causing Complaints
Many people take to Twitter to voice their opinions, positive or negative. We analyzed the sentiment of tweets about airlines as well as which airlines had the most tweets with complaint keywords. Let's see which carriers get the most negative tweets and which inspire the most complaints.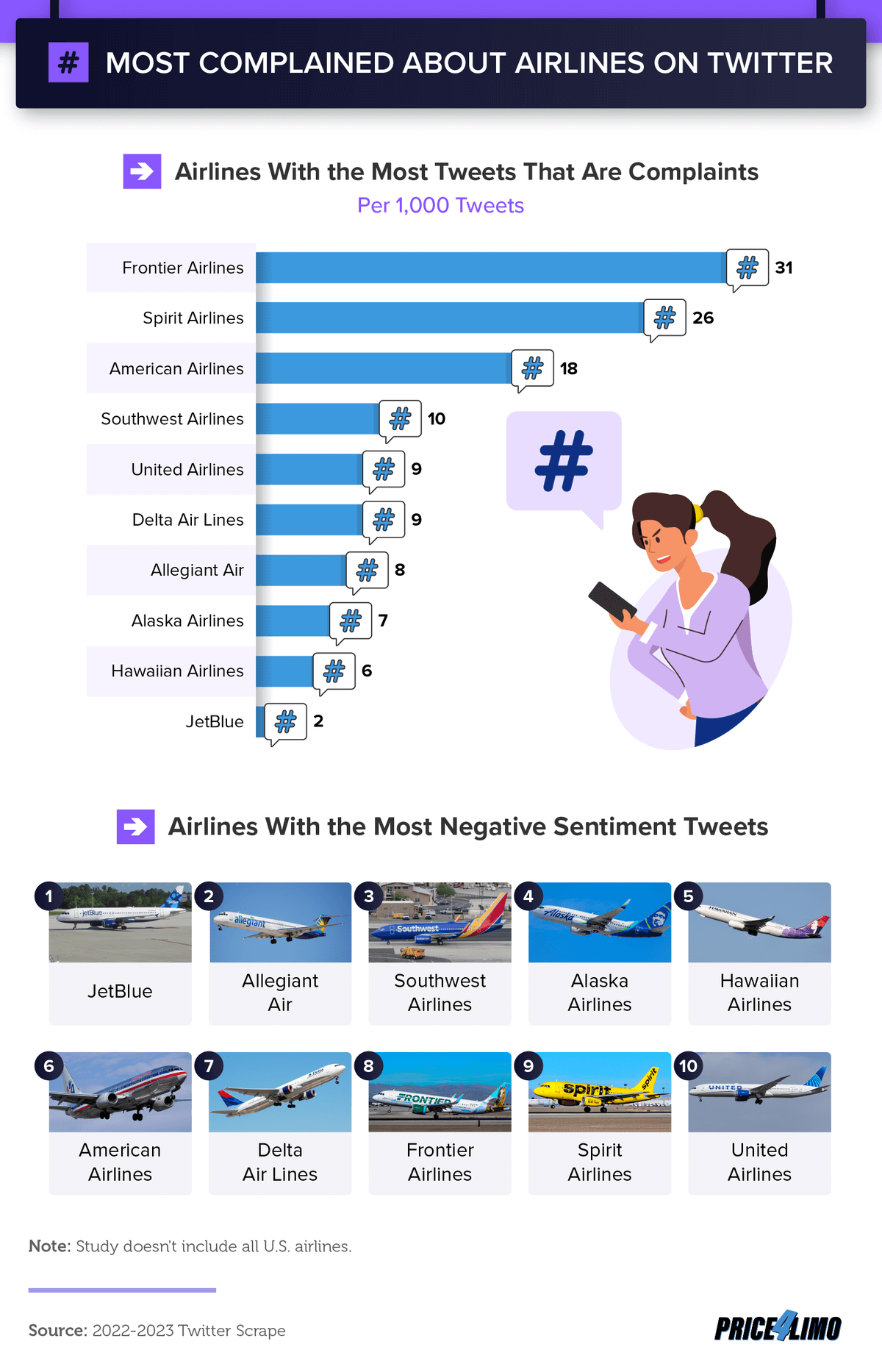 Twitter has a lot of users expressing their travel woes, which is bad news for some carriers. JetBlue had the most tweets with negative sentiment, followed by Allegiant Air and Southwest Airlines. That said, Twitter users seemed more eager to share complaints than praises.
In analyzing the ratio of complaints, low-cost carrier Frontier Airlines had the most complaints per 1,000 tweets (31), and Spirit Airlines followed closely with 26. And while it's hard to make everyone happy, especially with a large customer base, major carrier American Airlines had twice as many complaints on Twitter than competitors United Airlines and Delta. Interestingly, JetBlue had just two complaints per 1,000 tweets, the fewest among all airlines studied.
Fly Away From These Airports
Missed layovers, lost luggage, airport shutdowns, and more plague airline travelers. Let's see which airports give them the most trouble, according to Twitter.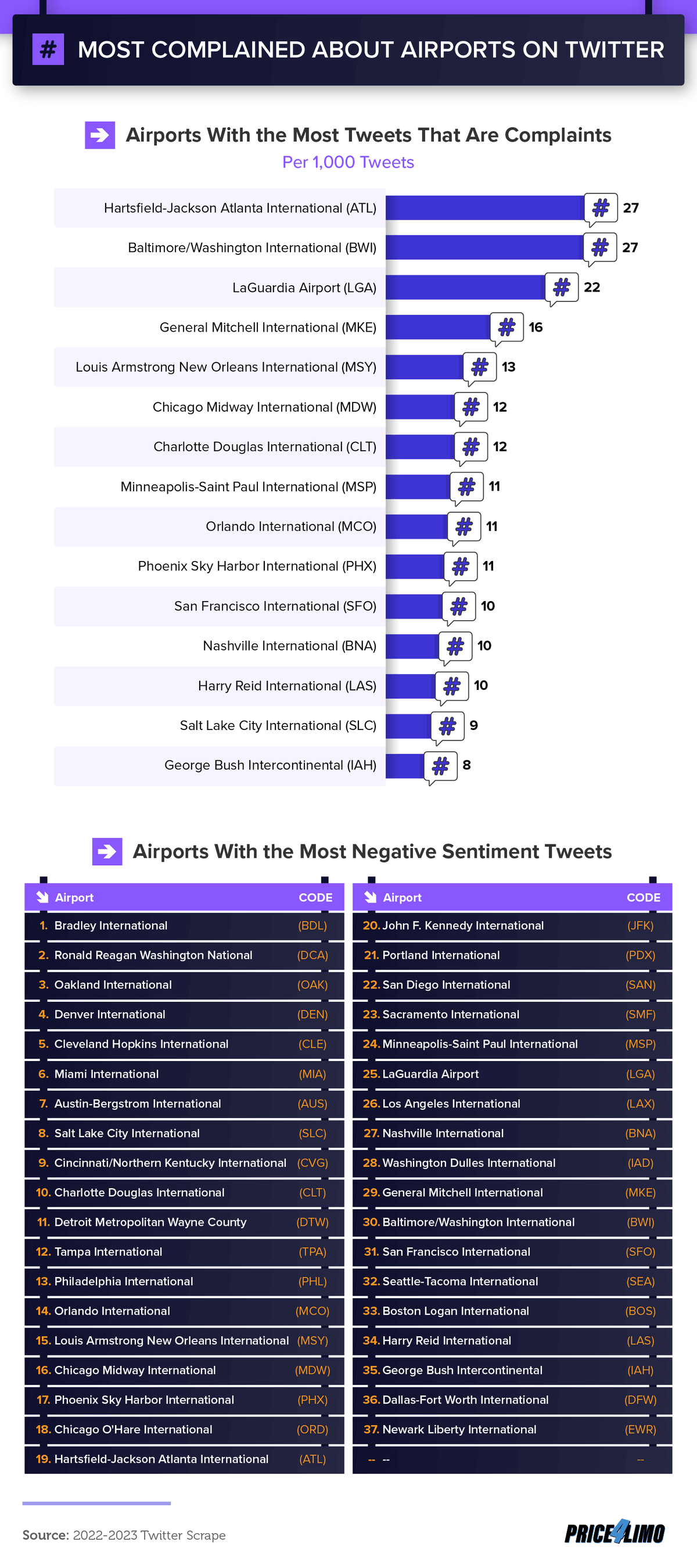 The Hartsfield-Jackson Atlanta International Airport (ATL) is one of the world's busiest airports, with millions of travelers per year. Perhaps the heavy traffic is what led travelers to complain about the airport often. ATL and Baltimore/Washington International Airport (BWI) tied for the most complained about airports on Twitter, each with 27 complaint tweets per 1,000 tweets.
Being smaller than ATL and BWI, Bradley International Airport (BDL) and Ronald Reagan Washington National Airport (DCA) didn't make the list of airports with the most complaints. However, they did top the list of airports with the most negative sentiment tweets, along with Oakland International.
On the positive side, Twitter users wrote the most tweets with positive sentiments about Newark Liberty International Airport (EWR). That's great news if you want to travel to New York City, as the Big Apple is just a rental car ride away from Newark. Also keeping flyers happy: Dallas-Fort Worth International Airport (DFW) and Houston's George Bush Intercontinental (IAH).
Booking Your Next Flight
Traveling can be stressful, but paying attention to customer feedback can offer some guidance when you are fortunate to have your choice of airline or airport. Next time you fly, consider avoiding poorly reviewed airlines like American Airlines and Southwest Airlines and busy airports like ATL and BWI. While you can't control delays caused by weather, you can book travel well ahead of time to have your pick of airlines, airports, and ground transportation to minimize the stress and better enjoy your journey
Methodology
We scraped Twitter to analyze tweets of major U.S. airlines and airports in the last year. There were a total of 1,014,023 tweets across all airlines and airports studied. We then did a sentiment analysis of tweets to see the percentage of positive and negative tweets. To determine which airlines and airports had the most complaints, we searched Twitter with each airport and airline name and a set of complaint keywords.
We used the following query to filter tweets complaining about each airline and airport: "Airport/Airline name" (City location if required) complaint keyword. The complaint keywords were "complaint," "dissatisfied," "horrible," "slow," "late," "bad," "disappointed," "upset," "unhappy," "angry," "irritated," and "frustrated."
Data also came from USDOT Air Travel Consumer Reports for 2022 and 2023. Not all airlines were included in our study. Complaint types were defined as follows:
Flight problems: cancellations, delays, or any other deviations from schedule, whether planned or unplanned. Fares: incorrect or incomplete information about fares, discount fare conditions and availability, overcharges, fare increases, and level of fares in general.
Customer service: rude or unhelpful employees, inadequate meals or cabin service, treatment of delayed passengers, unsatisfactory seat assignment (non-disability), and problems with family seating.
About Price4Limo
Price4Limo is a nationwide limousine, party bus, charter bus, and transportation booking service with over 20 years in the industry. We offer fast, detailed quotes and 24/7 access to specialized transportation consultants.
Fair Use Statement
Do you know a frequent flier who could use these tips? Feel free to share our research. We ask that you do so for noncommercial purposes only and link back to this page so readers can access our full findings and methodology.