Milwaukee Nightlife Review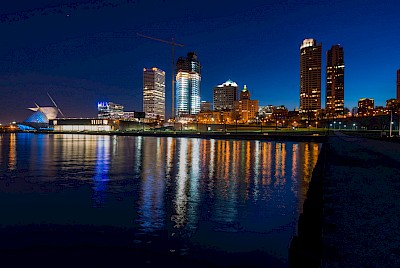 As the biggest city in Wisconsin, Milwaukee is known for its brewing traditions. When it comes to the Milwaukee Nightlife, you will never find yourself bored or looking something spice up your night. Milwaukee Nightlife is so active that nightclubs get the busiest from Thursday and through the weekend.
From outside hippie parties to open bars, the streets on Milwaukee are just a buzzing sight to behold. The immense culture and heritage makes this part of Wisconsin the most vibrant city. Now a lot of times nightclubs can have different reviews depending on the individual's interest or the kind of people they met there.
Top Bars & Nightlife in Milwaukee
Here are some of the best bars/nightclubs in Milwaukee:
Leff's Lucky Town

7208 W State St Milwaukee, WI 53213

One of the most eye-catching feature about the club is the big tables that had bonuses underneath the table purse hooks. Leff's Lucky Town has the best nachos that will spice up you night. With good selection of drinks and snacks, you don't have to drink on an empty stomach. Remember don't drink and drive, hire a limo service in Milwaukee!

Mad Planet

533 E Center St Milwaukee, WI 53212

Mad Planet is the hottest place in town. It has a very good dance floor that gives you the freedom to dance your socks off. The music is amazing. The venue is not that big but it is the perfect size for a night club. A lot of people say they feel comfortable and the disco lights are awesome. This club is the perfect stop for party buses!

Bad Genie

789 N Jefferson St Milwaukee, WI 53202

Bad Genie is more than a night club. This club makes Milwaukee Nightlife feel like you just teleported into a new dimension where there is only fun. The happy hours are amazing with places for bowling and pool tables. They have awesome DJs and good waiters. There are plenty hotels nearby for you to rest your head.

Hot Water & Wherehouse

818 S Water St Milwaukee, WI 53204

Amazing place that offers salsa lessons with a special night dedicated to salsa dancing. The place is so fun and everyone is so friendly and are just there for fun and dancing. It is definitely a place to go if you are going to club for your first time.

Le Cage

801 S 2nd St Milwaukee, WI 53204

This place just has the best drinks in nightclub culture. Although it seems like not a lot of people go there, it really has nice music and huge dance floor. The drinks are fairly priced which is always a good thing.

Sometimes Milwaukee Nightlife may make you feel like you have been partying all week yet you just went out on a Thursday night. The fun feels non-stop. Let's not forget the atmosphere at the clubs, totally friendly as compared to most nightclubs in other cities. Now you have the list of the best bars/nightclubs in Milwaukee that will make your selection of fun places much easier. If you're want to party with all your friends, you can hire our charter bus for all your transportation.
A piece of advice when you in a new nightclub, just to be yourself and interact with a friendly tone with as many people as you can. Just enjoy your night. Simple.