Seattle Nightlife Review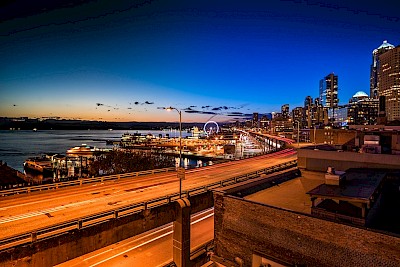 What makes the best bar or nightclub? Easy: having fun! It doesn't have to be special night to remember, but even if you're just getting together with a friend for a lunchtime drink or looking to relax after work, you need a watering hole that will leave you happier than when you walked through the door. To help you avoid the dogs and enjoy the best of Seattle, we have prepared a list of the best bars and nightclubs in Seattle, Washington.
Top 5 Bars & Nightclubs in Seattle, WA
Canon

928 12th Ave, Seattle, WA 98122

Named one of the world's best bars, Canon is easily one of the best bars in Seattle, if not The best. Admittedly, that's a tough, and rather subjective call but with the legendary Murray Stetson no longer at Zig Zag Cafe, we have to give Canon the nod for top spot. The huge whisky selection makes that a bit easier, too. If you throw back one to many, be sure to have a Seattle limo company pick you up and take you home!

Zig Zag Cafe

1501 Western Ave #202, Seattle, WA 98101

Stetson may have moved on but his decades of incredible bartending can still be felt here. Sit at the bar for what remains one of America's top bartending experiences. For cocktails, Zig Zag Cafe is still one of the finest bars on the planet and have no fear, Stetson's classic recipes are still being served up in a manner that does his legend proud.

Purple Cafe and Wine Bar

1225 4th Ave, Seattle, WA 98101

Cocktails and classic bar drinks are fine but if you're looking for a fine wine experience, Purple is the place to go. Not only do they have thousands of bottles of wine in stock but wine bottles feature as part of the impressive decor. The food, too, is very good, with something to cater for every desire, from wine nibbles to serious eats, along with something for the kids, too.

Monkey Loft

2915 1st Ave Seattle, WA

For those seeking a funky night out in a busy, energetic dance club, look no farther. Multiple levels offer the option to go a little crazy to high-energy EDM, as well as a laid-back floor with a relaxing low-key vibe. Intimate cocktail bar for really getting to know friends. Droves of people flock to this bar and many limo buses stop to get a piece of the action as well. If you take one too many shots, at least you'll be by some affordable hotels when you need a place to pass out!

Lo Fi Performance Gallery

429 Eastlake Ave E, Seattle, WA 98109

This is a smaller, more intimate venue but ff you're seeking something different from the usual high-brow bars and jammed, loud dancefloors, Lo Fi Performance Gallery may be perfect. What it lacks in terms of glitzy dancefloor and polished bar, it more than makes up for in being down to earth and offering a night out you cannot find anywhere else. Be sure to check what's happening first, though, as it's different every night of the week. Our pick of the bunch is Emerald City Soul Club, which packs in the soul fans to enjoy hours of classic Northern Soul grooves.
We've tried to cover all the bases here but of course this is only our view on what constitutes the five top bars and nightclubs in Seattle. If you're hunting top cocktails, check out Canon and Zig Zag Cafe. If you're a whisky aficionado, Canon is the place for you. If you're hankering for some of that old Murr Burr magic, Zig Zag can cater for your needs.
Those seeking a wide selection of fine wines or win and a meal, should check out Purple Cafe and Wine Bar, which also offers the convenience of locations in Bellevue and Woodinvale. To shake your booty on down, and maybe make new friends, Monkey Loft is a popular destination, especially in the summer, when the outside bar is open. If all you really want to do, is get your groove on, and you totally don't want to face a bar where singles are on the prowl, the monthly soul night at Lo Fi is where it's at.
And if you really want to make a night of it, Price4Limo can arrange motor coach bus transportation for group of up to 50. Now you could create your own Seattle Pub Crawl!