Famous People from Richmond, VA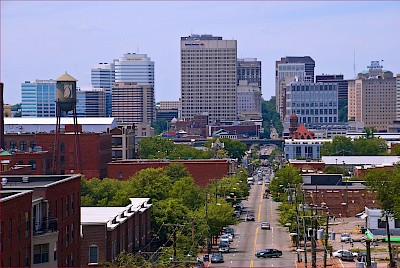 Richmond is an independent city in the state of Virginia USA which happens to be the capital of the commonwealth of Virginia. With a motto that goes, "Sic Itur Ad Astra" ("Thus do we reach the stars"), you may wonder, which people from Richmond have reached those heights so far. Here are the five people you may possibly know already.
5 Celebrities from Richmond, VA
David Baldacci

Baldacci is a Leo born 5th August 1960. An Alma matter of the Virginia Commonwealth University and the University of Virginia. If you are an avid reader of thriller bestsellers, Baldacci must be on your reading list. After two decades of writing without much success, the author wowed the world in 1996 with the international bestseller, ABSOLUTE POWER. What happens when secret service agents are ready to do anything within their power to protect the president from a possible scandal after the al death of his mistress? Anything including committing murders? The book has mastered the craft of suspense.

So far, he has published 33 bestsellers with over 110 million copies in print worldwide in more than 80 countries. His books have been translated into more than 45 languages. He lives in Fairfax County, Virginia with his wife and two children.

Corey Reynolds

Popularly known as Sergeant David Gabriel on the highest rated show in cable television history, THE CLOSER. He plays alongside Kyra Sedgwick, the Emmy Award winning actress. Reynolds was born on 3rd July 1974. The actor earned nominations for a Drama Desk and Tony Awards for the seaweed role he played for Hairspray's Ensemble. He has also appeared in movies such as Selma, The Terminal, Straight Outta Compton and Red Tails. He is married to Tara Renee Schemansky.

Chad L. Coldeman

The actor is popularly recognised as Tyreese, a fan-favourite from the popular series of all time, THE WALKING DEAD. He also played Dennis Wise (Cutty), on a starring role in the series The Wire, and as O.J. Simpson in Monday Night Mayhem movie. Coleman, born on 6th September 1974, has been in numerous popular and successful roles on television. He is the brother to Chris and Donald Coleman. He is divorced with two kids. They love the Richmond nightlife.

Shirley MacLaine Beatty

Shirley is a jack of all trades. Born on 24th April 1934, she is an author, dancer, activist and singer. She is however known for her roles as an actress. MacLaine is a six-time academy nominee. During an interview with Opra Winfrey, Shirley confessed she often fell for the men she co-starred with leading roles. She has starred in movies such as Terms of Endearment, The Apartment, Irma La Douce and Some Came Running.

Vince Gillian

Gillian is famous writer, producer and director for the famed television series BREAKING BAD and THE X-FILES. He has been awarded four times by the Writers Guild of America in four consecutive years. Vince isn't married, but has been with his girlfriend Holly Rice since 1991. Born on 10th February 1967, Vince can be described as simply brilliant.
These are just some of the few famous personalities born in Richmond Virginia. The list is pretty wide. Indeed, people from Richmond reach the stars. If you want to see some famous homes and attractions in Richmond, book a party bus rental or charter bus from Price4Limo.