Famous People from San Antonio, Texas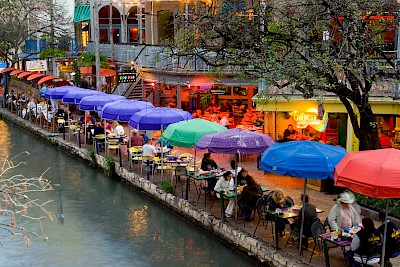 There is more to San Antonio than just the Spurs, Alamo, and the Riverwalk. This is because it is the city in the state of Texas that does not disappoint when it comes to producing famous people. These people cover an array of industries that range from musicians, comedians to award-winning television hosts and actors.
5 Famous People From San Antonio
Jared Padalecki

Jared Padalecki was born in the city of San Antonio to a tax accountant called Gerald Padalecki and a teacher of English by the name of Sherri (Kammer). He started taking acting lessons at the tender age of 12. Jared was the victor of the Claim to Fame Contest in the year 1999 after which he got a chance to make an appearance on the Teen Choice awards. He is popular for his role in the hit television series of Supernatural where he plays as Sam Winchester.

Gil Birmingham

Gil is a renowned American actor of a Comanche ancestry. San Antonio is where he took his first breath of life. He comes from a family that frequently moved in the course of his childhood. This was due to his father's military career. Gil learned to play a guitar as a child and still considers music to be his first love. He is well known for playing Billy Black in the film series called The Twilight Saga. Famous people like Gil prefer to travel with a San Antonio limo service.

Nikki Hahn

She is an actress whose birth took place at the city of San Antonio, Texas. She began an exquisite resume at a very young age when she immediately set foot in Hollywood. She initially enjoyed modeling for Little Marc Jacobs, Agatha Ruiz De La Prada, American Girl, GAP, Disney Campaigns etc. before making her maiden appearance on television. Hahn is known for her role in Genius. If you're luck you might see her staying at one of the hotels near you!

Paula Prentiss

She was discovered at the popular Northwestern University in the year 1958 by an undisclosed talent scout. Metro Goldwyn Mayer signed Paula Prentiss before she joined Jim Hutton in several comedies. She quickly rose to become among the best comediennes in America at that time (the 1960s). The factors that established her role as the leading lady in screwball type of comedies are her brunette good looks, free acting style, and her funny voice inflections. She is known for her excellent role in The Stepford Wives.

James Roday

He hails from Texas' San Antonio. His father is called Jim Rodríguez who is an employee of the Boardwalk Auto Group. Roday went to Taft High School. He proceeded to study theater at the Experimental Theatre Wing of the prestigious New York University to earn a coveted degree in Fine Arts. James has acted in a number of theatrical productions. He is famous for his role in Psych.
The list above is far from exhaustive as there is a significant number of famous people who hail from this amazing city. It is very evident that San Antonio is the birthplace of numerous famous individuals who make a difference in the world in one way or another. If you want to take a tour and visit some celebrity homes, take advantage of our party bus rentals or San Antonio charter buses.