Best Restaurants in Dallas, Texas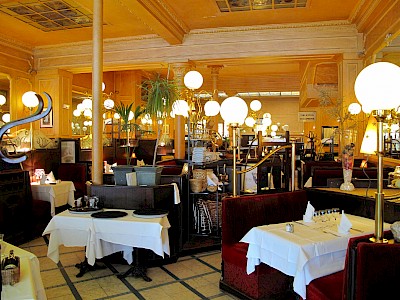 You probably already know Dallas, Texas as the home of the best steakhouse restaurants. While this is true, it also prides itself in offering a wide range of delicious cuisines from Japanese to French and everything in between. For a unique and unforgettable dining experience in Dallas, here are some of the best restaurants to consider visiting:
Top 5 Best Restaurants in Dallas, TX
Knife Dallas

5300 E Mockingbird Ln, Dallas, TX 75206

Craving for some finger-licking, professionally-prepared steak? Head over to Knife Dallas. This upscale steakhouse has something for everyone. You can expect to find everything from innovative appetizers like bacon-crusted bone marrow to dry-aged steak.

Other than steak, this eatery also serves a wide range of vegetarian dishes, seafood as well as creative cocktails. John Tesar, the main chef at the restaurant is committed to using high-quality ingredients in his cooking to ensure that customers are served only the best. The steakhouse features beef, lamb and pork that have been born and raised in Texas and prepared in broilers and cast irons. Arrive in a Dallas limo rental to this upscale restauarant and enjoy your evening.

Frank Restaurant

Deep Ellum Dallas, TX 75226

This restaurant car service airport transportions customers an unforgettable fine dining experience. It is run by Ben Starr and Jennie Kelley and operates in a private dinner party style. What this means is that you have to make reservations at least one week in advance to be able to dine at Frank. Guests who make it to their list are served a multi-course meal at a communal table. Be sure to look around, you might see some Dallas celebrities dining.

They roll out their menu within a period of 3 hours or more, making dining in this place look more like a celebration. The chefs use only unique, rare and local ingredients to prepare delicious meals to keep you coming back for more. Price4Limo can transport all your friends and family for the evening in one of our party bus rentals in Dallas!

Fearing's Restaurant

2121 McKinney Ave, Dallas, TX 75201

Fearing's is another great Dallas eatery is located within the lavish area of Ritz-Carlton. Dean Fearing the Head Chef at the restaurant and author of the book, The Texas Food Bible, uses his professional cooking skills and numerous years of experience to bring you an innovative menu with lots of food options to sample from.

From roasted lamb chops to farm-to-market cuisines, Fearing's has something for everyone. They also have a wine cellar that can accommodate up to 16 people for those who want a more private and intimate dining experience.

Mansion Restaurant

2821 Turtle Creek Blvd, Dallas, TX 75219

This restaurant is located inside Rosewood Mansion (Turtle Creek), which was previously a private estate. It's undoubtedly one of the top choices in Dallas when it comes to fine dining. Mansion prides itself in serving contemporary American dishes with French flair in a sophisticated environment.

Customers are free to dine inside the cozy restaurant or on the outdoor patio as they enjoy the surrounding picturesque views. Their vibrant artwork, wood-paneled walls and sleek furnishings make dining here intimate and more relaxed.

Abacus Restaurant

4511 McKinney Ave, Dallas, TX 75205

This is another good restaurant worth checking out. Abacus boasts a wide range of awards and nominations including a James Beard nomination for service as well as AAA Four Diamonds. They use the freshest ingredients, which are sourced locally to prepare your food to perfection. And it doesn't end there. Their meals are artfully presented in a classy and stylish space to make your dining experience enjoyable.

From their menu, you'll find several different dishes to choose from. You're also at liberty to enjoy their 5 or 8 course meals from the Chef's Tasting Menu. If you're looking fro a fine dining experience in a relaxed and classy environment, Abacus is the place to be.
As you can see above, there's a whole lot more to Dallas, Texas than just steakhouse restaurants. Feel free to visit any of the above 5 best restaurants in Dallas to enjoy your favorite meal. If you require ground transportation for a large party, book a Dallas charter bus online here!