Scranton Nightlife Review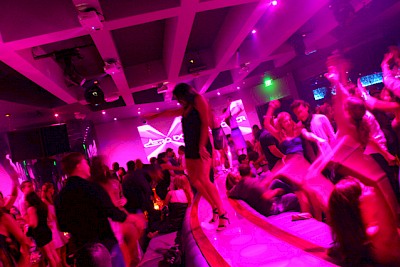 Scranton, Pennsylvania was seemed to hit the big time when it was became the home of Michael Scott and the team of Dunder Mifflin in the American rendition of "The Office." Let's be honest, how many people heard of Scranton before that? It turns out that unlike a lot of fictional television shows, the city of Scranton is a real place, and it offers quite the nightlife for those who like to get out and have a good time. If you are looking for a place that offers great fun, food, and entertainment for your next holiday, consider making a trip to Scranton, Pennsylvania. Here are five of the best bars for you to get in on the Scranton nightlife.
Top 5 Bars & Nightclubs in Scranton, PA
Backyard Ale House

523 Linden St, Scranton, PA 18503

Backyard Ale House offers classic pub fare from 11a.m. to 2 a.m., 6 nights a week. The pub is closed on Mondays. There's a patio for lounging and a good selection of cocktails and tasty food that can be enjoyed well into the night. If you drink a little too much, call for a limousine service in Scranton to pick you up!

Jack's Draft House

802 Prescott Ave, Scranton, PA 18510

Jack's Draft House is home to unique beers, a vintage feeling atmosphere and a good selection of food. The bar is open 5 p.m. to 2 a.m., 6 days a week except Sundays. Hey, they need to sleep too, you know. If you need a place to stay, have a look at our list of budget hotels.

The Bog

341 Adams Ave, Scranton, PA 18503

The list for its simple promise to be a place to drink. They don't have anything fancy but if you are looking to "tie one on" with some friends and listen to some good tunes, this is the place to be. You can find The Bog at 341 Adams Avenue any day of the week from about 4 p.m. to 2 a.m.; on the weekends it opens at 8 p.m. If you want transportation to and from the Bog, we can provide Scranton party buses and more!

The Penalty Box

3277 Pittston Ave, Scranton, PA 18505

The Penalty Box is a great spot for the sports fan. If you want to catch the game and have some beers with friends, this is a great place to spend an evening. Located at 3277 Pittston Avenue, The Penalty Box is open 7 days a week from 11a.m. to 2 a.m.

Poor Richard's Pub

125 Beech St, Scranton, PA 18505

Poor Richard's Pub is the kind of place you could spend a weekend in: they have pool tables, bowling lanes, karaoke, and DJs on the weekends. If you are looking for place to have a good time with a crowd, check out Poor Richards at 125 Beech Street any day of the week from about 5 p.m. to 2 a.m.
It's worth noting that Scranton also offers a number of adults only clubs, if that's your thing, and there are a number of fine dining options if you prefer something a little fancier than a pub-style bar. Whether you prefer something laid back or something a little more exciting, the Scranton nightlife scene has something for everyone. If you are traveling as a group, a charter bus rental can be your best transportation option.
The downtown scene is pretty tight and most of the best places to visit in Scranton are within walking distance of each other in the core of the city. You can also hail a cab from one of the many cab companies or flag an Uber to get home when all the fun is done. So grab some friends and head to Scranton for a great time tonight!