Best Restaurants in Scranton, Pennsylvania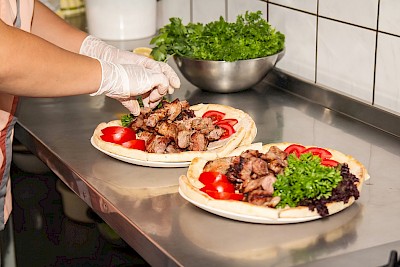 Whether it's delicious food, lively dining scene, elegant and modern décor or friendly and professional staff you're looking for, Scranton, Pennsylvania has it all. Here are top 5 best restaurants in Scranton you should consider visiting if you are town for business or pleasure.
Top 5 Restaurants in Scranton, PA
Carl Von Luger

301 N Washington Ave, Scranton, PA 18503, USA

Are you searching for an establishment that offers fine dining at reasonable prices in Scranton? If you said yes, then Carl Von Luger restaurant is the place to visit. This stylish restaurant offers the finest seafood and steak dining that will surely keep you coming back for more. You're car service airport transportiond of amazing gourmet steaks at reasonable prices in a beautiful modern art décor atmosphere. The best part is that you can choose to have your favorite meal outside or inside the establishment.

Note that dinner is regularly accompanied by live jazz music to make your dining experience even better. The delicious meals, high-quality service and reasonable prices make Carl Von Luger a great dining option to consider.

Casa Bella

330 W Market St, Scranton, PA 18508, USA

This is another great restaurant in Scranton. There's no better place to enjoy your favorite Italian foods than Casa Bella. It serves various traditional Italian cuisines accompanied by excellent wine pairings. If you like going out for some great food and wine with friends, then Casa Bella is a great place to be.

Despite its modest outside look, this restaurant has the perfect atmosphere for dining and offers the best Italian dishes you've ever tasted. It's definitely worth checking out. If you want to dine with the entire family, call your local party bus rental company and head over as a group!

Posh

404 N Washington Ave, Scranton, PA 18503, USA

Posh is another great and popular restaurant in Scranton that's worth visiting. Just like its name, Posh provides exquisite dining experience in a historical and elegant setting. From roasted salmon to duck breast to strip streak, this eatery offers a wide variety of American foods that you'll surely enjoy.

The foods are not only mouth watering but also beautifully presented. Note that this popular dining place in Scranton gets extremely busy especially during the weekends; therefore, it's advisable that you make reservations early to avoid missing a table. If you require transportation, Posh can have a limo service ready for you.

Coney Island of Scranton

100 Cedar Ave, Scranton, PA 18503, USA

This restaurant is the home of the best Texas wieners and hamburgers. At this diner-style restaurant, you can find a wide selection of simple dishes with great flavor. From wiener steaks to burgers to hotdogs, this restaurant has it all. So, drop by to satisfy your cravings; I'm sure you won't be disappointed. The interior of the place is modest but very detailed. You can also expect to find several natural wooden booths for a vintage atmosphere as you eat. Here you might run into some famous people grabbing a bite!

Eden- A Vegan Café

344 Adams Ave, Scranton, PA 18503, USA

Lastly, Eden-A Vegan Café is another great establishment in Scranton worth visiting. This lovely vegan café is best known for serving healthy meals to all its customers. Their all-vegan menu has lots of different dishes, salads and sandwiches to choose from so finding your favorite healthy foods shouldn't be a problem. It may have a simple interior, but the atmosphere is very warm and cozy. On the walls, you'll find artworks of different artists from the region that you can purchase if you have the money.
Feel free to visit any of these top restaurants in Scranton for a memorable dining experience. If you want to make a trip out of it, and complete a tasting from each restaurant listed above, Price4Limo can arrage a charter bus tour for you and some guests!