Portland Nightlife Review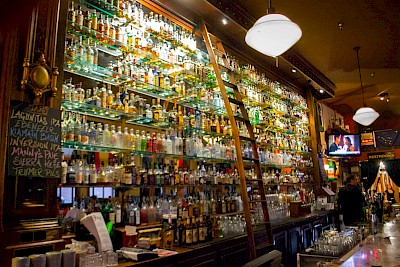 The flavor and style of the Portland Nightlife are not just expressed by the restaurants and shops only; one can get the style and flavor of Portland Nightlife in the numerous music venues situated throughout the beautiful city. The creative spirit and flavor of the city are evident in almost all the activities that one may choose. The following is a list of five of the hottest and renowned night spots of Portland.
5 Best Bars & Nightclubs in Portland, OR
Mississippi Studios

3939 N Mississippi Ave, Portland, OR 97227

This place is quite popular for a number of things. Mississippi Studios is also considered to be an ideal place to watch live shows because the intimate and compact space has incredible and clear sound. When it is not crowded, one can also use the main floor as a great place for dancing with those who prefer to watch sit in the balcony. Drinks and foods are always available for lunch as well as dinner with patios offer seating arrangements on the outside.

Holocene

1001 SE Morrison St Portland, OR 97214

Holocene is a dance club, a bar for people above 21 years of age, and a venue. On weekend nights, Holocene arranges themed and high-energy dance parties. They have two dance floors, enough to ensure a very good time to a great number of people. On occasional Saturday's they arrange usually a hip hop or Booty Bassment Party. The Holocene serves special drinks such as a kind of alcoholic slushie, which is quite tasty with other special drinks like green tea-mint-honey-vodka or vodka, lemonade, black pepper, and strawberry. Remember, if you have too much to drink, Price4Limo can arrange for an affordable limo service in Portland to pick you up and take you home.

Ringlers Pub

1332 W Burnside St, Portland, OR

This pub is located just beneath the popular Crystal Ballroom, a popular place for live music admirers. This is a very good place for friends or colleagues to meet and have a drink. Apart from that, the patrons can also engage themselves with the pinball machines and pool tables. This pub also serves very good food. The Ringlers Pub also serves organic dishes as well along with all the favorite and popular cuisines.

Big Al's

14950 SW Barrows Rd, Beaverton

The Big Al's is believed to be a place for everyone even though it's not in Portland. This is a very big family and friendly sports bar. The Big Al's also has a bowling alley, a restaurant, and an arcade. This place was actually built to resemble one stadium, with one painted sky roof or ceiling, metal decking, concrete floors, wrap-around booth-seating and exposed trusses. If you need a ride from Portland to Beaverton, our party bus rentals in Portland, OR are the way to go!

Ground Kontrol

115 NW 5th Ave, Portland, OR 97209

Ground Kontrol is Portland's best gaming destination that features more than sixty classic and best-selling video games with twenty-seven pinball machines. Besides, the massive gaming collections there is also a full-service bar that opens after 5 pm. Usually, there is one host DJ. Whenever there is not a DJ, the place has other forms of entertainment such as game tournaments, trivia nights, rock-band karaoke, or comedy shows.
Portland is quite popular for two things; music and beer. However, the Portland Nightlife ensures much more than just music and beer. One can have a night full of interesting and memorable activities while enjoying Portland's famous beer and of course, the music. If you want to travel as a group, Price4Limo can help you book a charter bus for the evening!