Best Restaurants in Portland, Oregon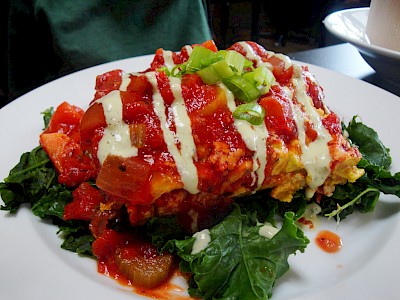 Portland is widely known for its ethnic diversity. However, over the years, it has managed to cement its name among the top food destinations in USA such as Los Angeles and New York. From farm-to-table cuisines to food carts, you're assured of finding delightful drinks and edibles at every corner of this city. If you're looking for a place to enjoy a good meal at a reasonable price.
Top 5 Restaurants in Portland, OR
Salt & Straw

838 NW 23rd Ave, Portland, OR 97210

If you love ice cream, Salt & Straw is the place to be. It has the most amazing and innovative ice cream flavors you've ever tasted. And because of that, expect to queue before being served as many people throng the place to have a taste of the different flavors offered. All the delicious ice creams are house-made and hand-made in small batches using all-natural, organic and sustainable ingredients that are sourced locally. Be sure to try the different flavors they offer such as smoked bourbon cherries, strawberry balsamic ice cream and freckled woodblock chocolate among others. Planning a birthday party? Hire a Portland party bus rental and head over to Salt & Straw!

Le Pigeon

738 E Burnside St, Portland, OR 97214

Le Pigeon is another great Portland restaurant worth your time and money. Le Pigeon's Co-owners and chefs Gabriel Rucker and Andy Fortgang take their time to prepare delicious, inventive and flawless French-inspired dishes that are car service airport transportiond to delight your taste buds. They have a rotating menu featuring lots of creative dishes such as black garlic oyster sauce, Thai barbecue pigeon, and rabbit with bacon among others. The restaurant also provides a tasting menu made of 5 or 7 courses, which is great for those who want some culinary adventure.

Note that customers have the option of enjoying their meals in the restaurant's warm, cozy and relaxed dining space with communal wooden tables, or sitting near the open kitchen to see live how the meals are being prepared. Le Pigeon is the go-to restaurant for many local Portland celebrities!

Toro Bravo

120 NE Russell St, Portland, OR, USA

If you're craving for some Spanish-inspired dishes, Toro Bravo is where you should head to. This lively eatery in Portland was established in 2007 by John Gorham. John has managed to add new-age flair to traditional Spanish recipes through clever twists and modern techniques. Their meals are made from fresh, seasonal ingredients to ensure that you're served only the best.

Their menu, which changes daily, features dishes like tapas, prawns, raciones, pinchos and grilled bacon among others. They also serve various sweet edibles like ice creams as well as wines and cocktails. You'll definitely enjoy the cozy, lively and airy atmosphere of this restaurant. This is a popular stop before heading out on the town with a Portland limo service.

Pok Pok

3226 SE Division St, Portland, OR, USA

Portland's food scene is not complete without mentioning Pok Pok. This restaurant is located in a small but modern space and specializes in serving native Thai dishes from South East Asia. All their meals are delicious, fresh and professionally prepared.

Head over there and try their tasty glass noodle salad, fish sauce wings, mustard greens, charcoal grilled boar collar or Thai herbal salad. Their rich and innovative menu caters for both vegetarians and carnivores alike.

Paradox Café

3439 SE Belmont Street, Portland, OR, USA

This is another good eatery for people looking for vegan, vegetarian and gluten-free options. It's open only for breakfast and lunch and serves a variety of dishes like tofu, vegan cheese, sandwiches, tempeh, salads and burgers. Be sure to have a taste of their Vegan French toast; it's amazing, to say the least.
These top restaurants in Portland offer a wide range of dishes and reasonable prices to suit everyone's taste and preference. Drop by any of them at any time to sample your favorite foods. Want to visit them all? Book a charter bus in Portland and start your own "Taste of Portland." Don't be surprised if you turn into a loyal and long-term customer.