Famous People from Cincinnati, Ohio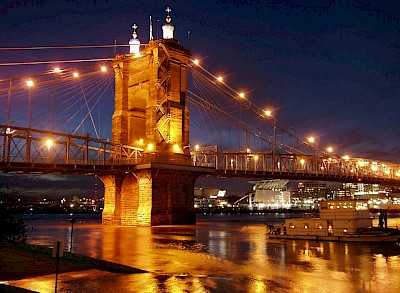 We all love to hear what celebrities are up to, and with the internet we can access this information faster than ever. Access to celebrities makes them seem more approachable and it makes us want to know more about them. What makes someone famous has always been of interest to the general public and we love to find tidbits of information about them to help us relate to them.
What's more, cities love to claim famous people as their own. Here are some fun facts about 5 famous people from Cincinnati, Ohio. They didn't just live there, they were born here and that's what's important when it comes to claiming a famous person as your own!
Top 5 Celebrities from Cincinnati, OH
Steven Spielberg

Steven Spielberg was born in Cincinnati, Ohio on December 18, 1946 and is one of the most noteworthy directors and producers in Hollywood's history. Some of his most famous works are still big hits today: Jaws, E.T., SAving Private Ryan, and Catch Me if You Can, as well as countless other blockbuster movie hits. He has worked with the biggest names in Hollywood and continues to be one of the most influential directors of our time.

Patricia Wettig

Patricia Wettig was born on December 4, 1951 in Cincinnati and is best known for her multiple movie and television roles including City Slickers and playing the female vice president on Prison Break for a number of years. She is also known her for roles in the television show Thirty Something, Brothers and Sisters, and The Langoliers by Stephen King.

Ted Turner

Ted Turner, while not an actor, founded TBS (Turner Broadcasting System) and was born in Cincinnati on November 19, 1938. He also headed up multiple other television stations such as The Cartoon Network, he was the founder of CNN, and he created Turner Classic Movies. Ted Turner was also the head of AOL Time Warner Company for a time. One thing to note about Ted, he doesn't go anywhere with out his limousine service!

Amy Yasbeck

Amy Yasbeck was born in Cincinnati in 1962 on September 12 and is best known for her roles in movies such as The Mask with Jim Carrey, Pretty Woman, Robin Hood, and Problem Child. She was married to her previous co-star, John Ritter until he died suddenly in 2003.

Doris Day

Doris Day was born on April 3, 1922 in Cincinnati, Ohio and was beloved in earlier Hollywood for her roles in multiple movies, but today's generation might know her from her show "The Doris Day Show" which ran until 1973. She is also famed for singing "Que Sera Sera" in the movie The Man Who Knew Too Much from 1956. When you hear that tune, it will likely make you think of Doris Day.
Famous people hail from all over the world, and Cincinnati has its share of famous people that call it home. In addition to the likes of Steven Spielberg, Patricia Wettig, Ted Turner, Amy Yasbeck and Doris Day, countless other celebrities and people who are famous for other reasons. Many were born and raised in the city and many of them went to schools in nearby cities or made their mark on the Cincinnati nightlife. If you want to see some famous attractions in Cincinnati, hire a charter bus company for your tour from Price4Limo. If you want to have a bit more fun on your tour, you can use our party bus in Cincinnati.