Best Restaurants in Dayton, Ohio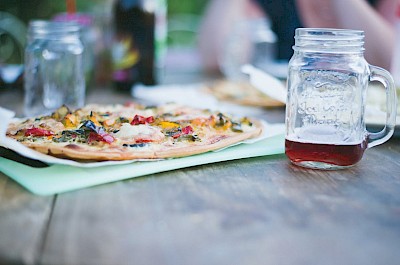 Dayton, the heartbeat of Aviation Industry in Ohio, attracts people from all over the world. The city's dining arena is, therefore, an interesting fusion of international and local conventional flavor. For an even fulfilling stay in this Miami Valley consider spending time in the following best restaurants in Dayton Ohio. The restaurants exemplify Dayton's unique culinary culture. Ranging from laid back cafes to modern food served in lavish settings; you will be spoiled for choice when ordering your favorite meal. Check them out.
Top 5 Restaurants in Dayton, OH
The Pine Club

1926 Brown St, Dayton, Ohio, (937) 409-2411

Started in 1947 this favorite restaurant provides a throwback to a former time. The pleasantly fried onion rings, the steaks, a fantastic wine list and well-made cocktails truly earn the Pine Club international recognition. Additionally, the atmosphere is great, the ambience charming while the meals are superb. The setting of the restaurant is upscale yet casual effectively creating a happy balance for individuals who would fancy blend of both feels. Subsequently, even when it is crowded, cramped or even noisy, the environment doesn't lose its irresistible charm. Set up a romantic evening here, starting with a luxury limo service from Price4Limo.

Taqueria Mixteca

1609E 3rd Street, Dayton OH, (937) 258-2654

Taqueria is one of Dayton's leading destinations for great dining. Not only does the restaurant provide the best guacamole in the region but every meal is full of fresh and tasty ingredients. On the menus is a rare yet rightly impressive white queso. You also have the option of trying out six mini tacos banquet, in addition to delicious chorizo, shredded goat burritos, and beef tongue. Evidently, this restaurant has all your standards meals, and much more to try out. If you have a charter bus full of hungry boys and girls, this is the place to stop and grab a bite!

Coco's Bistro

250 Warren Street Dayton OH, (937) 228-2626

From a beautifully decorated, spacious and hence comfortable dining rooms to scampi shrimp-and-pasta meals, Coco's Bistro is definitely the place to be. The restaurant even emerged as first runners up in the Fine Dining niche in the Best of Dayton Restaurants awards in 2016. The environment is warm, intimate and welcoming. The menu is also comprehensive; it encompasses a broad range of classy American flare with interior inspiration. The management encourages reservations while a private room is readily available for bigger parties.

Coldwater Café

19 East Main Street, Tipp City, Ohio, (937) 667-0007

This restaurant boasts a beautiful atmosphere, well-put-together menu, and a friendly customer service. It provides an excellent variety of foods served in a comfy and relaxed atmosphere primed for the Dayton nightlife. Opting to dine in this lovely restaurant allows you to experience first-hand how it feels seating in a former bank vault. You have the choice of dining indoors, outdoors or even in an exclusive private function room, referred to as Upper Plate, offering captivating views of the surroundings. However, for a rightly great feel, you can try out the Chef's Table which comprises a four-course meal and wine pairings served by Chef Nick in the kitchen over a table of four.

Meadowlark's Restaurant

5531 Far Hill Avenue, Dayton OH (937) 434-4750

Meadow, a pioneer of farm-to-table foods concept, has a knack for mixing ingredients that ordinary chefs wouldn't attempt to put together to form a dish. It then turns the same into a meal far more delicious than the combination of its parts. It is a chef-owned restaurant that serves home-style American meals such as Cornbread, Fresh fish, sandwiches and Grilled meats. To sum it all, the restaurant was voted the Best Vegan Restaurant in the Best of Dayton 2016 Awards, and for good reasons. Look around at this restaurant, because you might see someone famous!
Settle for any of the above best Restaurants in Dayton Ohio for the most comfortable rooms, delicious dishes, and relaxing environments. They have experienced, dedicated and passionate chefs who work extremely hard to ensure you get value for your money. Customers who dine in the restaurants have nothing but praises for everything from brilliant customer service to tasty meals. If you and a group of friends want to do a tasting from each of the restaurants above, book one of our party bus rentals and we can take you around town.