Best Restaurants in Cleveland, Ohio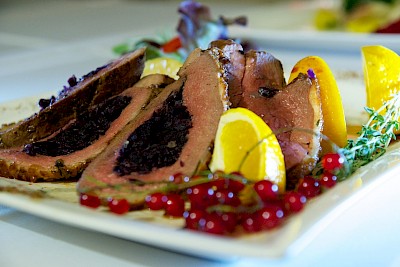 Cleveland, Ohio can boast many things; friendly people, the beautiful land and some would say the best corned beef sandwiches in the nation. It also has some of the most incredible dining experiences in America. Keeping to the food aspect of this great city we are going to explore some of the best restaurants in Cleveland.
Top 5 Restaurants in Cleveland, OH
Valerio's Ristorante

12405 Mayfield Road., Cleveland, OH 44106

This intimate Italian restaurant is an outstanding place to soak up some of the authentic ambiance. The cozy atmosphere, amazing service, and exquisite food and wine make Valerio's Reistorante easy to have a good time. Here you get genuine Italian dishes prepared by genuine Italians. The owners and chef immigrated here from Italy and decided to share their culture with all of Cleveland. Want a nice romantic evening with that special someone? Book a limo service in Cleveland and head over to Valerio's.

Blue Point Grille

700 West St. Clair Avenue, Cleveland, OH 44113

If Seafood is your passion you can not pass up Blue Point Grille tucked away in the historic warehouse district. Their sophisticated décor, with beautiful high ceiling accented by an elegant chandelier, enhances your already elevated dining experience. It was voted Best Seafood in Cleveland every year it has been open, and it's easy to see why. The food is delicious and the atmosphere stylish, everything about this restaurant screams fine dining.

Barrio Tacos

806 Literary Road, Cleveland, OH 44113

When you are craving some delicious Mexican food and a laid-back feel than you will want to head over to Barrio Tacos. Here you can custom make your own tacos with the toppings that you like. It's no wonder that this is a popular Cleveland spot as the tacos come exactly how you like, so you never get a bad one in the bunch. They also offer cocktails and no Mexican food restaurant is complete without a scrumptious, ice cold Margarita and this place does not disappoint. If you want to eat before you hop on the party bus for the night, Barrio Tacos is the perfect place to make a stop.

Slymans Deli

3106 St. Clair Avenue NE, Cleveland, OH 44114

Cleveland has some of the best corned beef sandwiches anywhere. And when they say this they are mostly talking about Slymans Deli. Esquire voted them one of the finest meals on sliced bread on their compiled list encompassing the entire country. It is so impressive that former President George W Bush had to stop in and try their famous corned beef sandwich. You definitely have to check this one out. This place is a favorite spot for locals and celebrities!

Chez Francois – Vermilion

555 Main Street, Vermilion, OH 44089

This French inspired treasure is a little bit of a drive from downtown Cleveland, situated on the Vermilion River, but it is well worth the short drive to get there. It has an extremely upscale ambiance, even require appropriate attire to dine here. But you won't be disappointed, the service is just as fine as the dining. It offers a romantic, sumptuous dining experience that, when finished, will become one of your favorite memories.
No matter what you are in the mood for, Cleveland has it. Do you want an exquisite seafood or French fine dining experience? Or maybe you are in the mood to grab a sandwich or taco in a casual setting. Luckily, here in Cleveland we have some of the best restaurants in the nation. With our Cleveland charter bus service, you can start your own tasting tour and bring all of your closest friends! You can find anything that your heart, and stomach, desires. Whatever you choose you can rest assured you will have a top notch adventure.