Best Restaurants in Cincinnati, Ohio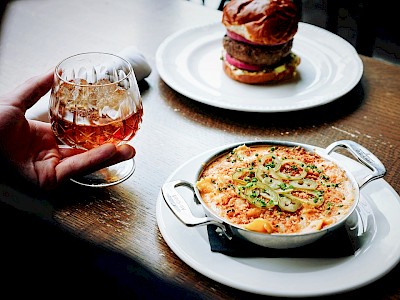 Restaurants are an integral part of life in the US, and there are thousands of them in the country fighting for customers. Some of them really deserve attention. In this article I would like to recommend you 5 restaurants in Cincinnati.
Top 5 Restaurants in Cincinnati, OH
Eli's BBQ

3313 Riverside Dr, Cincinnati, OH 45226-1012

The specialization of this cafe is American cuisine and the main focus here is on meat dishes. The most delicious one there are Hickory Smoked Ribs. They are fantastic. These are the best ribs I have ever eaten. Hot dogs are also very good there. As for atmosphere, Eli's BBQ restaurant is really cozy and nice. I strongly recommend everyone to visit this hospitable place. Fill up your bellies here before hitting the town with your Cincinnati party bus rental.

Pelicans Reef

7261 Beechmont Ave, Cincinnati, OH 45230-4125

It is the best restaurant that focuses on fish and seafood. Pelicans Reef an appealing family restaurant. The menu is very diverse and is inspired by the seasonal availability of seafood obtained daily, so everything there is fresh and delicious. Also there is a wide choice of non- and alcoholic beverages like beer and vine. The style of interior is quite sophisticated. When you are inside, you feel like you are on the old ship, like 17-th century caravel or 18-th century frigate. It is interesting that many elements of interior were donated by local people. All in all, this cafe stands out for its delicious food and unusual atmosphere. If you want to gain new experience, I advise you to visit Pelicans Reef. There's a reason so many famous people eat here.

Blue Gibbon

1231 Tennessee Ave, Cincinnati, OH 45229-1011

It is the best Chinese restaurant in the whole state. It offers an wonderful experience that takes advantage of unique flavors and ingredients not often seen in Western culture. The best dishes to order there are Chinese original food with rice, vegetables and noodles, but be ready that many of them are extremely spicy. Also, there is a wide range of seafood dishes. Almost everything is testy and delightful, except, maybe, soups. They are a bit strange. To sum up, Blue Gibbon is a good place to try authentic Chinese food.

Sotto

114 E 6th St, Cincinnati, OH 45202-3202.

The menu in the restaurant is fire, meat, wheat and, of course, Italian. There you can try many famous Italian dishes like pasta and prosciutto. Moreover, there are many vines brought directly from Italy. The only disadvantage of Sotto is that there is often overcrowded and noisy, but the quality of food makes up for it. If you decided to visit this place. If you want to treat the whole family, hire a limo service in Cincinnati from Price4Limo, and head on over to Sotto.

Mexican cafe

5207 Madison Rd, Cincinnati, OH 45227-1481

When you go inside, you will definitely fell like entering a family cafe in Mexico or Tijuana. The menu consists mainly of national Mexican food. There are different types of burritos, tacos and so on. The only problem is that it is pretty small, so it is difficult to find a seat there in rush hour.
I would like to say that Cincinnati's restaurants are very diverse and everyone will find the one that he or she will fall in love with. If you want to get the real taste of Cincinnati, hire a charter bus rental for the day and take a restaurant tour!