Raleigh Nightlife Review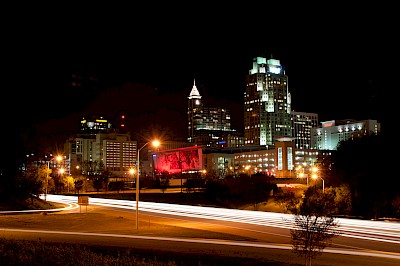 Raleigh is the capital city of North Carolina. It's home to the prestigious North Carolina State University. There are several other universities and research institutions in this city. Along with Durham, it makes up part of an area in North Carolina called the Research Triangle. An area filled with college students is bound to be crawling with pleasure seekers. This is partly the reason why Raleigh is filled with new bars and restaurants.
If you are looking to have a night out on the town, there are several places to visit which offer a stellar experience. I have put together a Raleigh night review which I think you will find very informative.
Top 5 Bars & Nightclubs in Raleigh, NC
The Ambis 1

4000 Atlantic Ave, Raleigh, NC 27604

One night club which is a favourite with tourists and residents alike is the Ambis 1 at 4000 Atlantic Avenue. They specifically have a well stocked bar with a great bartender ready to deliver all your favourite cocktails. They have an amazing VIP area with wait staff to cater to your every request. Every Saturday, they have a drinks special. They offer the best of Latino music and dancing in Raeigh so make your way down there every weekend and get ready to enjoy the music of their two amazing DJs, DJ Cheko, and DJ Fito. If you need a ride to the club, Price4Limo can arrange a Raleigh limo service to pick you up and drop you off.

My Way Tavern

522 St Marys St, Raleigh, NC 27605

Another amazing spot to visit is the My Way Tavern. It's a sports bar, however, they have a lot more to offer than burger and sandwiches. They have a lot of great food on the menu. A lot of people come here for the delicious clam chowder, which is the chef's speciality dish. With great food, good music, friendly wait staff and a very short wait time, it is the perfect place for a fun night out with friends.

The Foundation Bar

213 Fayetteville St, Raleigh, NC 27601

Apart from the above two amazing places, one great bar you should check out is The Foundation. Although it is a little expensive, the stellar experience they deliver is worth every penny. Apart from great parking and budget hotels just a stone's throw away, they make some of the best cocktails in North Carolina. It is also a great place to network. Many young business men and working professionals drop by on their way from work. For those looking to kill two birds with one stone by combining business with pleasure, it is the perfect place to be.

Boxbar +Arcade

330 W Davie St, Raleigh, NC 27601

This review would not be complete without including these two bars; Boxbar +Arcade and The Raleigh Times. Boxbar+Arcade at 330 W Davie Street, offers a great selection of classic and modern arcade games. They also offer a wide variety of beer choices and specials throughout the week. The vintage atmosphere and reasonably priced drinks make it a great place to visit. They are pet friendly and have warm and friendly staff. For this reason, many dog walkers say it's one of their favorite bars. This place is so much fun you'll want to hire a Raleigh party bus full of friends and family!

The Raleigh Times

14 E Hargett St, Raleigh, NC 27601

The Raleigh Times at 14 E Hargett Street, famous for its Belgian beer micro brews and American pub grub, has been described by many as one of the best bars in North Carolina. Many residents frequent this bar for great tasting food and good beer served at this historic location which once housed the city's local paper , The Raliegh Times. With reasonably priced daily specials on offer, it's no wonder it's a favourite spot for many college students.
Apart from those I have mentioned, there are still several other great places to visit. Get your friends together, book a Raleigh bus charter, and get ready to explore this amazing city's night life. I am sure you will find that there is something to suit every taste and budget.