Budget Hotels in Wilmington, North Carolina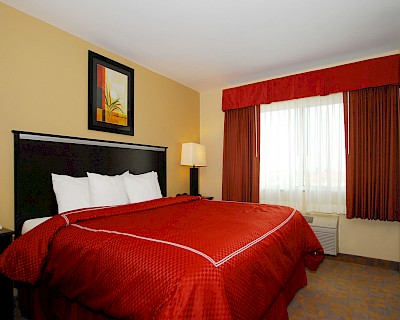 Wilmington is a happening city in North Carolina. Apart from several high-end hotels, you will also find plenty of budget hotels here. Here are some of the best hotels in Wilmington you should consider:
Top 5 Affordable Hotels in Wilmington, NC
StayBridge Suites Wilmington East

5010 New Centre Dr, Wilmington, NC 28403

Located close to plenty of shops and restaurants, StayBridge Suites is one of the most popular budget hotels in Wilmington. Both the beach and the airport are nearby. Complimentary airport shuttle is also provided to all the guests. You will also find a convenience store where you can shop for groceries if you want. An indoor heated swimming pool is also there which is open to all guests. The best thing is that the studio suites come with a well-equipped kitchen. Hence, if you want, you can cook your own food as well.

Holiday Inn Wilmington

5032 Market Street, Wilmington, NC 28405

Located on the happening and popular Market Street, Holiday Inn is also a very good option if you are looking for a budget hotel in Wilmington. It is a spacious hotel and the rooms are equipped with the basic facilities which are required for a comfortable stay. A complimentary breakfast is provided to all the guests. Apart from that, the guests are also provided free parking. There is also parking for charter buses and motor coaches. On the property of the hotel, you will find a very popular restaurant named " Market Street Grille", which serves some amazing steaks and seafood.

Fairfield Inn and Suites

307 Eastwood Road, Wilmington, NC 28403

If you are looking for a budget hotel near the beach, this is definitely the best option. Even though it is located on the main road, it is not very noisy and you will have a peaceful stay here. You will find plenty of restaurants nearby serving all kinds of cuisine. There is also a Walmart just near the hotel. An indoor pool is also there where all the guests can relax. You can workout at their fitness center as well. If you want to go out for the night, hire a party bus rental in Wilmington!

Hampton Inn Wilmington Medical Park

2320 S 17th Street, Wilmington, NC 28401

Located near the New Hanover Hospital, this is also a great place to stay. There are plenty of historical locations nearby which you can visit. The beach is also not very far. The best thing about the hotel is the complimentary breakfast which they provide to all their guests. You should definitely try out their omelets and French Toast. A business center is also there to satisfy the needs of their corporate clients. They also have function rooms which can accommodate around 150 people at once. If you need transportation services, a Wilmington limo service can be hired through Price4Limo.

TownePlace Suites Wilmington Beach

305 Eastwood Road, Wilmington, NC 28403

Located near the beach, you can also consider staying in this hotel if you are visiting Wilmington. The staff over there is very friendly and welcoming. They will tell you about the places to visit and the popular restaurants over there. Daily housekeeping service will also make sure that you enjoy a comfortable stay. Apart from that, a pool and a fitness center are also there.
Thus, if you are looking for a budget hotel to stay in Wilmington, you will have plenty of options to choose from. You will also find many affordable hotels near the beach.