Best Restaurants in Rochester, NY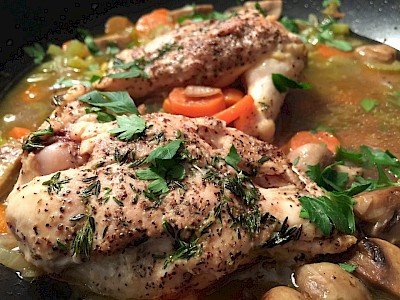 Rochester is without a doubt one of the fast rising culinary hotspots in Upstate New York boasting a wide range of restaurants. Whether its finger-licking barbecue, Italian dishes or vegan options you're craving for, you can be sure to find it all in this town.
Top 5 Restaurants in Rochester, NY
Good Luck Restaurant

50 Anderson Ave, Rochester, NY, USA 14607

Good Luck Restaurant is one of the best restaurants and nightspots in Rochester. It's very popular for its amazing American dishes, a huge variety of drinks and great service. The great food plus the rustic charm of the warehouse space where Good Luck is located continues to attract lots of customers day in day out. Enjoy their soft-shell crab, bacon, chips, pork ribs, sausage, whole grain mustard or any thing else that might interest you from their menu. They also have huge variety signature cocktails to choose from to make your dining experience even better.

Sticky Lips BBQ

625 Culver Rd, Rochester, NY, USA 14609

Sticky Lips BBQ is another great and popular barbecue joint in Rochester worth visiting. The restaurant is known for cooking with charcoal throughout the year, something that makes its dishes very delicious and flavorful.

Since opening its doors in 2004 in a previous automobile showroom, the joint has grown immensely over the years attracting a huge number of loyal customers. Drop by at any time and enjoy barbecue ribs, sandwiches, burgers, BBQ tofu, pulled pork and much more.

The Owl House

75 Marshall Street, Rochester, NY, USA

The Owl House is another great restaurant in Rochester known for its warm and relaxed atmosphere, creative and imaginative plates and craft beers. You'll never be disappointed here if you're looking for vegetarian, gluten-free or vegan options as they have a wide variety of foods in their menu for health conscious customers and those with dietary needs. Some of the dishes that's you'll find on their menu include vegan coconut cake, crispy tofu nuggets, Buffalo Cauliflower Wings, ricotta meatballs and vegan nachos among others. This local spot is favorited by many local celebrities.

If you are a beer lover, cross over to their lively bar to sample some of their artisan cocktails and craft beers as you watch your favorite game. The Owl House restaurant is set in an appealing wooden house with a warm and inviting interior that creates the ideal rustic scene to enjoy your favorite vegan dish.

Tony D's

288 Exchange Boulevard, Rochester, NY, USA 14623

There's no better place to go in Rochester than Tony D's if you're in the mood for some great pizza. This lively Italian restaurant is well known for its finger-licking coal-fired pizzas as well as its great location (it overlooks the Genesee River). The coal ovens they use ensure that your pizza has a crispy crust just the way you like it. Apart from pizzas, the restaurant also serves several other Italian dishes and innovative creations including Margherita pie and calamari salad among others. You have the option of eating your meals outside while admiring great scenery around Genesee River from the restaurant's patio. If you have a big family and want to bring them all to Tony D's, let Price4Limo find you a Rochester limo or party bus rental for the evening.

Lento

Village Gate Square, 274 North Goodman Street, Rochester, NY, USA 14607

If you love eating food prepared from fresh ingredients, then you'll enjoy your dining experience at Lento. Serving American dishes made from local produce, Lento is undeniably one of Rochester's best farm-to-table restaurants. All their dishes are delicious and are crafted in-house from fresh, local and seasonal ingredients. The meat they serve is also pasture-raised and sourced from local farms.

The restaurant has lots of options in their menu from wild rice and roasted quail to seasoned shrimp and cranberry stew, so finding what you're looking for shouldn't be a problem.
These are some of the best restaurants in Rochester, NY that you should plan to visit if you're in this area. Their mouth-watering dishes will surely make you a regular customer. If you want to visit them all with a bunch of friends you can get a charter bus in Rochester, NY for any special occasion.