Best Restaurants in Buffalo, New York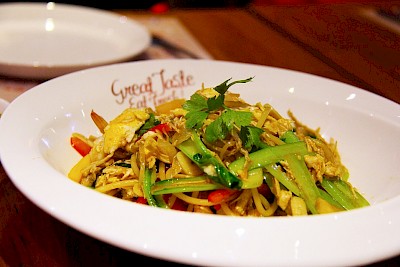 Best Restaurants in Buffalo, NY written by: doraemi If you're looking for the best foods to try while in New York, you must visit Buffalo. You can't go wrong with visiting some of the most sought after restaurants the city offers. You will surely be delighted because of the wide variety of choices you can pick from. Nothing beats high quality food and culinary expertise from the best chefs in town.
Top 5 Restaurants in Buffalo, NY
Buffalo offers the most extensive array of premium food in New York. Your trip wouldn't be complete without sampling a few dishes from these highly popular restaurants.
Bacchus Wine Bar & Restaurant

56 W Chippewa Street, Buffalo, NY.

This restaurant is located in a premier location in Buffalo. You will be amazed with the great service and excellent quality food you will be receiving from Bacchus Wine Bar & Restaurant. Besides their impeccable and highly sought after dishes, they also offer an extensive wine list for their customers For a complete dining experience, make sure to stop by and check out their world class cuisine.

The Left Bank Restaurant

511 Rhode Island St, Buffalo, NY.

Fine dining has never been more delicious compared to what The Left Bank Restaurant has to offer. All their food are made fresh with the highest quality ingredients. They are popularly known for their filet mignon, burgers, wagyu steak and tuna steak. Their food presentation is impeccable and their staff are friendly and polite. This is a great place to have your limo rental stop before you head out downtown!

Hutch's Fine Dining Restaurant

1375 Delaware Ave, Buffalo, NY

If you want to experience first class service and food, make sure to stop by Hutch's Fine Dining Restaurant. Its brick walls create the perfect ambiance while eating the most delectable dishes. The restaurant offers a variety of delicious food such as Traditional Steak Tartare, Bison Strip, Nova Scotia Halibut and South African Cold Water Lobster Tail. If you are coming in on a charter bus as a group, be sure to make reservations in advance.

Tempo Restaurant

581 Delaware Ave, Buffalo, NY

What sets this restaurant apart is how much preparation they spend on perfecting their menu. Each and every dish is professionally and skillfully made to ensure the best tasting food. The restaurant offers an exquisite dining experience, impeccable service and an impressive wine list. Their most popular dish is the Certified Black Angus Bone-In Rib Eye. Tempo is favorited by many local celebrities.

Osteria 166

166 Franklin St, Buffalo, NY

A warm and welcoming vibe is very important when dining in a restaurant. The relaxing ambiance felt by the customers paired with the delicious tasting food makes Osteria 166 a true winner. It is one of the most popular Italian casual hubs in the city. Their most popular dishes include Faro Island Salmon, Scallops and Prosciutto Bucatini, American Style Kobe Beef Ravioli, Smoked Duck and Angel Hair, Porchetta E Gnocchi and Filet Mignon.
Don't miss out on world class food and exceptional service. Make sure to try out these restaurants during your visit. Whether you're looking for a casual dining experience or you prefer fine dining, there is a restaurant for you. If you want to get a taste of all the above restaurants hire a Buffalo party bus and stop by each place. Since you have a wide range of options to choose from, you will surely find one to satisfy your food cravings.