Best Restaurants in Las Vegas, Nevada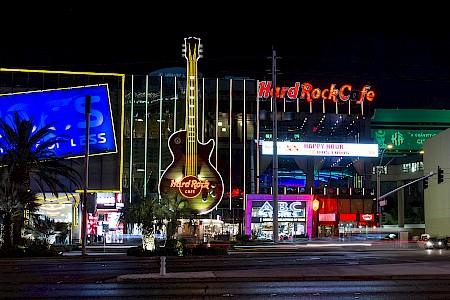 Best Restaurants in Las Vegas, Nevada written by: Candy Muthaura If you love good food and have been planning a trip to Las Vegas, the time to visit is now. There is an impressive number of modern restaurants operating in Vegas, creating a tasty itinerary for those craving great meals in a setting where both the atmosphere and the food are truly special. Check out our list of the best restaurants in Las Vegas, Nevada. Our recommendations may mot be the most popular in Sin City, but they are truly worth your attention.
Our Top 5 Las Vegas Restaurants
Joël Robuchon Restaurant

MGM Grand 3799 S Las Vegas Blvd, Las Vegas, NV 89109

Dubbed the "Mansion", Joël Robuchon Restaurant offers fine dining at its finest. The eatery was lauded by the famous french culinary expert Gault & Millau in the year 1989. As you may guess, a meal inside the mansion's jewel-hued dining areas is truly special, so be sure to enjoy the occasion to the fullest. There are many L'ateliers in the world today, but this one truly stands out. For many, no trip to Las Vegas is complete without a visit to this Vegas eatery.

Andiron Steak & Sea

1720 Festival Plaza DrLas Vegas, NV 89135

Andiron Steak & Sea has been developed by the famous team behind some of the country's leading restaurants such as Made L.V. and Honey Salt. Located in downtown Sumerlin, this top culinary choice offers juicy chucks of steak and great seafood as well as small offerings such as cheese and mac waffle and wrapped matzo balls, which are just as exciting. And despite steaks being the top item on the menu, the roasted cauliflower steak may be the finest vegan meal in Las Vegas. Don't be suprised to see some famous people eatting next to you!

Bardot Brasserie

3730 Las Vegas Blvd SLas Vegas, NV 89149

Michael Mina's newest of four unique restaurants in Las Vegas offers much more than French dishes to its customers. The menu is varied, carefully prepared and professionally served in a dynamic bistro setting with a sociable staff that will be ready to help you make your selections right. If you require luxury transportation be sure to check out our affordable Las Vegas limousines.

Carnevino (Palazzo)

3325 Las Vegas Blvd SLas Vegas, NV 89109

No doubt, Las Vegas has some of the best steakhouses in the county, and Mario Batali's Carnevino can rival any of them. At his steak and wine house, the steak is aged for several months in-house while the prepared steams beckon you from the monumental menu of healthy and downright delicious food, as do the salumi, pastas and salads. Our party buses can bring your group here upon request.

Carson Kitchen

124 S 6th St Ste 100Las Vegas, NV 89101

The Fremont East District was once a dreaded place. Then hipster-friendly clubs sprung up in the area. More recently, however, greet restaurants like Carson Kitchen have been opened in the area. If you love celebrity chefs, Kerry Simon's hangout on Carson Street is a destination you don't want to miss during your trip to Vegas. Actually, even if you are not into celebrities and love good food, you will want to visit this joint. It has become a favorite among locals and visitors alike because it offers a approachable menu, fantastic service and a luxurious setting.
Finding a good restaurant in Las Vegas, Nevada can be challenging. With so many great options to consider, it is difficult to choose just one. Instead of going straight to the first restaurant you come across, check out the above recommendations as they are truly worth your attention. We can provide group transportation using charter buses or motor coach buses as needed.