Omaha Nightlife Review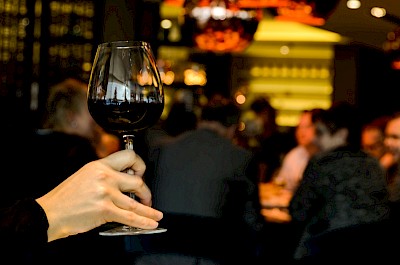 Omaha is the most popular city in Nebraska and has a very happening and vibrant nightlife. The area has plenty of bars and nightclubs that make it one of the best nightlifes in the area! Let's take a look the best bars and nightclubs in Omaha.
Top 5 Bars & Nightclubs in Omaha, Nebraska
Mr Toad

1002 Howard Street, Omaha, Nebraska 68102

This British Style pub is one of the best places to go for a drink In Nebraska. Mr Toad is a small, cozy pub and has a very friendly atmosphere. The outdoor seating area is also really cool. Food is not served here, but you will find a wide variety of drinks. They are well known for their beers. Apart from that, special events also generally take place during Wednesday's and Sunday's. On Wednesday's, famous pianist Ray Williams enthralls the audience with his amazing piano skills. And Sunday's are reserved for jazz. This bar is a popular stop for our Omaha party buses!

Beercade

6104 Maple Street, Omaha, Nebraska 68104

Beercade is a very happening bar. As the name suggests, they are mainly famous for their beers. The beer collection is very impressive. You will find almost everything here. There are also plenty of entertainment options. Pinball machines are installed throughout the bar. Every month, pinball tournaments are conducted which is open to all guests. Apart from that, you can also book a separate Party Room if you want to party in private. Party rooms come with a well-stocked bar and three pinball machines. If you have a little too much fun and need transportation, be sure to call Price4Limo and get the best prices for limousines in Omaha.

The Berry & Rye

1105 Howard Street, Omaha, Nebraska 68102

This is also a good place to have a drink. The first thing which will strike you about this place is its beautiful interior. The brick walls, hanging lights and wooden floors and tables look really good. They are well known for their cocktails. You should definitely try out some of the cocktails like " Shetland Sea'' and " El Sanador". Apart from cocktails, you will find almost everything here like Vodka, Whiskey, Gin, and Rum. Feel comfotrable that you're not too far from some affordable hotels in Omaha.

Dundee Cork and Bottle

614 N 50th Street, Omaha, NE 68132

If you are looking for a place which has a very peaceful and quiet atmosphere, then this is the place to be. It is a very cute looking wine bar. The place is not very big. Inside, there are around 5 or 6 tables. However, they also have a very beautiful outdoor seating area. The entire place is very beautifully decorated with plants. They have an extensive wine collection. The beer collection is also quite impressive.

The Omaha Lounge

1505 Farnam Street, NE 68102

It opened recently, but still it has managed to make a name for itself as one of the premier nightlife destinations in Omaha. The live music is excellent. You can try out the various cocktails which they have to offer. One of their most famous cocktails is the "Garden", which is very refreshing and is basically a sweeter and lighter version of the Mojito. This club is so popular, droves of charter buses bring people from all around the area.
Thus, we see that Omaha has plenty of good bars and pubs. If you are looking for a place to party, there will be plenty of options to choose from. From beer to whiskey to rum, you will find almost find everything here