Budget Hotels in Omaha, Nebraska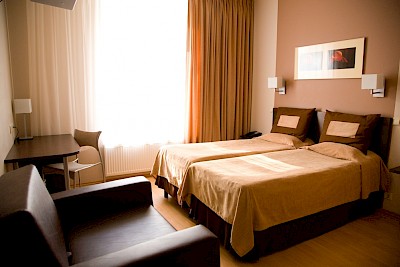 Traveling can be a lot of fun without the added pocket pinch of staying in expensive hotels. Hotels sometimes charge you unnecessarily and it puts a huge strain on your budget. An alternative to these costly hotels in Omaha, NE are budget hotels. These hotels allow you to have the comfort and hospitality of a good hotel without paying a large sum. Omaha hotels can be especially useful for you if you are planning on a trip to Omaha, Nebraska.
There are available a lot of options for you if you are planning to stay in Omaha in a economic and cost effective place. There are a lot of budget hotels and inns to choose from.
Top 5 Budget Hotels in Omaha, NE
Hotel Deco XV

1504, Harney Street in Omaha, NE 68102

With its central location in Omaha, you will be steps away from the Orpheum Theatre and the Spirit of Nebraska's Wilderness Park. Hotel Deco XV is also very close the National bank Tower and the Holland Center for Performing Arts. There are 89 guest rooms which are individually decorated and come with plasma televisions and refrigerators. You also get docking stations for your iPod and cable network services. You can also grab some refreshments from the restaurant's bar and lounge. You could also opt for a relaxing spa here or some recreation activities. There is also a complimentary area shuttle so that you can reach your destinations easily. If you want transportation for the evening, Price4Limo can help you find a limo service in Omaha.

Holiday Inn Express Hotel and Suites

6939N 102nd Circle, Omaha, Nebraska 68122

The Holiday Inn Express Hotel and Suites is about walking distance from several restaurants and cafes nearby. You also get access to several downtown Omaha shopping centers. The hotel has a pre-heated pool situated indoors for guests to enjoy. They also have a whirlpool and a gymnasium. You also get free WiFi and complimentary breakfast. There is plenty of parking for charter buses and party bus rentals here.

Residence Inn Omaha West

18202, Cuming Street, Omaha, NE 68022-4521

This place is very pocket friendly and you will feel cared for with their excellent service. With free parking amenities and breakfast in the morning, your stay at Omaha will surely be a pleasant one. They have fully furnished rooms along with free WiFi. They also have a coffee shop and valet service for dry cleaning. If you need a bite to eat, there are some really good restaurants in the area.

Westmont Inn and Suites

10909 M St, Exit 445 off 180 East L St East, Omaha,NE 68137-2305

Westmont Inn and Suites is popular for their location which is very close to Omaha's best attractions. With free parking and wifi and fully furnished rooms, you get pampered for your choice over here. This hotel has all the necessary amenities required to make you feel at home. You can also shop to your heart's content at the nearby flea markets.

Homewood Suites

1314 Cuming St, Omaha NE 68102-4454

It is situated right across the Ameritrade Park and is less than about 3 miles from the Eppley Airfield. You get complimentary breakfast and can even cook your own food at your room. You also get access to a fitness center and a swimming pool. This hotel will surely ensure that you feel right at home and you will be pleased with their excellent service.
Thus there a lot of budget options for hotels to choose from if you are staying in Omaha. Feel free to get a thorough review of all the hotels and make your decision accordingly. After all your place here at Omaha will be your home away from home.