Budget Hotels in Detroit, Michigan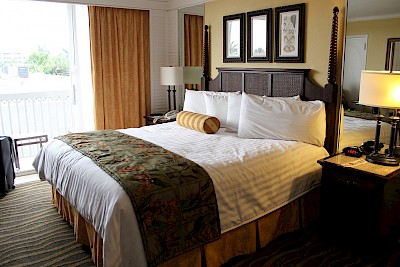 Budget Hotels in Detroit written by: doraemi Finding accommodations in Detroit doesn't have to be costly. If you're on a budget, you'll surely be able to find an accommodation which will suit your preferences. There are plenty of incredible hotels that aren't too expensive which are located at central locations. You will be able to pay for a lower price without having to sacrifice comfort.
5 Affordable Hotesl in Detroit, MI
Let's take a look into 5 Budget Hotels in Detroit to help you locate the best accommodation for your stay.
The Inn On Ferry Street

If you're searching for elegant exteriors and superb service, you can't go wrong with staying at The Inn On Ferry Street. The hotel is located on 84 East Ferry Street, Detroit, MI. It's very near some of the most iconic attractions in Detroit such as museums, the Wayne State University and the Detroit Medical Center. The structure used to be Victorian homes which have been reconstructed to build a hotel.

Holiday Inn Express & Suites

Whether you're a business or leisure traveler, you'll have a great stay at Holiday Inn Express & Suites. They have finely appointed guest rooms which are comfortable and spacious. Their outstanding amenities will make your stay more memorable. They have an indoor heated pool, state of the art fitness center and a 24 hour business center. The hotel is located on 1020 Washington Boulevard, Detroit, MI. We provide limo rental services to and from this hotel.

Courtyard by Marriott

Being situated in the heart of Downtown Detroit makes Courtyard by Marriott one of the best budget accommodations in the city. It's conveniently surrounded by a variety of restaurants and attractions. The hotel is located near Cobo Center, Comerica Park and the Riverfront. It provides a relaxing escape to get away from the worries of everyday life. The hotel's address is 333 East Jefferson Ave, Detroit, MI.

Double Tree by Hilton

Located on 5801 Southfield Expressway, Detroit, MI the Double Tree by Hilton hotel is one of the most popular in the city. It has consistently received positive reviews from their guests over the past five years. They offer spacious rooms and world class amenities. You will be able to enjoy the fitness center, hot tubs or the indoor swimming pool during your stay. It's only fifteen minutes away from the Detroit International Airport. If you need a ride from the airport to your hotel, you can hire one of our Detroit party buses or shuttle buses.

Hotel St. Regis

If you're looking for a modern and casual accomodation that's not too costly, Hotel St. Regis is perfect for you. They promise their guests the ultimate level of convenience and comfort. They have been hosts to Mick Jagger and Martin Luther King. It is near Cadillac Place, Fisher Theatre and casinos. They have 124 guestrooms which offer inviting decor and superior bedding. The hotel is located in 3071 West Grand Boulevard, Detroit, MI.
Make your stay in Detroit more memorable by staying at any of these budget hotels. Each hotel listed above has ample parking for charter buses and motor coaches. They offer incredible amenities paired with excellent service. They are all located in prime locations which ensures that you'll be able to conveniently travel from one attraction to another. These are the top five budget hotels in the city which have received positive reviews for their outstanding facilities. Stay within your budget without sacrificing comfort by staying at any one of these hotels.