Budget Hotels in Springfield, Massachusetts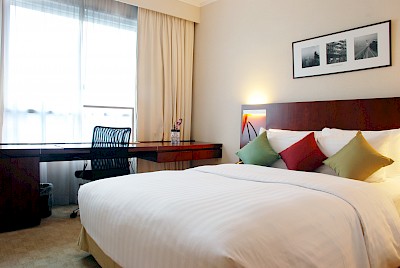 If you are in Springfield, Massachusetts and need accommodation you don't need to pay an arm and leg. There are great, budget-friendly 2 to 3-star hotels in this city, with amenities and facilities that can only be compared to what 5-star hotels have to offer.
While the large number of affordable hotels offers the much needed variety for anyone looking to spend the night or a few days in this New England city, it can also make it hard for you to pick just one. Which is why we have decided to give a brief overview of the 5 best budget hotels in Springfield, MA to help you narrow down your choices. On average, expect to pay as little as $89.42 for a 2-star hotel and $106.27 for a 3-star.
Top 5 Affordable Hotels in Springfield, MA
Springfield Marriot

2 Boland Way, Springfield, MA 01115

Located 17 miles north of Bradley International Airport, the Springfield Marriott Hotel is perfect for groups and individuals alike. Each of the 265 rooms in the property comes with handy amenities and services that include a heating/ cooling system, private bathroom, alarm clock, complimentary newspaper and clothes dryer. The 13 meeting rooms and business center makes it a great accommodation option if you are in a group or if you need business facilities. If you need transportation services, we can arrange for a limo rental in Springfield, MA.

Regency Inn & Suites

21 Baldwin St, West Springfield, MA 01089

With just 48 rooms, the Regency Inn & Suites is loved because of the privacy that it offers visitors. The hotel runs airport shuttle services to help those who want to save time or are not able to get to the facility on their own. All the rooms are sufficiently large and come with a refrigerator, in-room coffee, microwave and hair dryer. You will also get a business desk and chair in this pet-friendly facility. Visitors are usually treated to a free complimentary breakfast.

La Quinta Inn & Suites

100 Congress St, Springfield, MA 01104

All the 182 rooms in La Quinta Inn and Suites were fully renovated barely five years ago, giving the whole property a facelift that justifies its spot on this list. Each guestroom is a studio with a refrigerator and microwave among other handy amenities. There is a sofabed just in case a guest needs extra space. The pet-friendly hotel also features a heated indoor pool with free breakfast available for guests. La Quinta has parking spaces for motor coaches and cars.

HILTON GARDEN INN SPRINGFIELD

800 Hall of Fame Ave, Springfield, MA 01105

The Hilton Garden Inn has lots of complementary amenities, including a flat-screen TV, high-speed internet, refrigerator and microwave in each room. The 6-floor property has 5 meeting rooms and amazing discount offers for groups, making it one of the best for business or leisure travelers who are in a group. Health and fitness enthusiasts will love to know that there is a fully functional health and fitness center at the facility.

Sheraton Springfield Monarch Place Hotel

Monarch Pl, Springfield, MA 01144

Other than being the largest hotel in Springfield, the Sheraton Monarch Place offers guests some of the best views of the city, particularly the Connecticut River. It is located at the heart of the city, making it very convenient for guests who don't want to spend the night in the city center. The 325 rooms include 12 meant for the handicap. Dining options include local restaurants and in-room service. There are various business and fitness centers on the property.
As far as accommodation goes, Springfield has something for everyone, whether you want to stay for a single night or a couple of days. The good news is that you don't need to break the bank to get amazing amenities. If you are planning to visit the city consider one of the hotels given above. They have top-notch services and facilities and are highly rated by visitors.