Boston Nightlife Review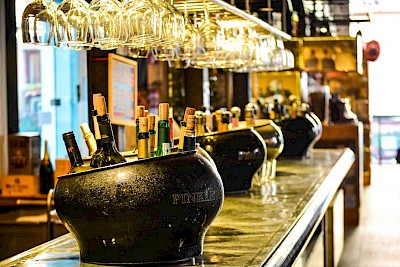 Who doesn't love a pint of lager along with a chat with friends to take the edge off after an exhausting routine at work? Just as the city serves as a cultural and economic anchor of the Greater Boston Metropolitan area, the city offers folks a mouth watering range of choices of clubs and bars.
5 Best Bars & Nightclubs in Boston, MA
The Tunnel

100 Stuart St, Boston, MA 02116

One of the hottest clubs in the Boston neighborhood, The Tunnel club is known for its king size appeal. From spirits that can get you steaming to DJs, who make it a point to flush you with the Top Forty and the best of House and Dance, you wouldn't mind showing off your moves. A perfect place for folks who want to be seen on the floor, and for couples who wouldn't mind making out in the nooks, this place completes the night with its signature drink, 'The Tunnel'. This club is a popular stop for our party bus rentals!

Belly Wine Bar

1 Kendall Square, Cambridge, MA 02139

Any bibulous Boston folk who like the taste of classics must certainly remember this bar for the fire of 2015, which nearly destroyed it. However, like a phoenix, it has truly risen out of its ashes to its former glory. Belly Wine Bar along with its sister, Blue Room went through a massive refit for nearly year before being back in business. The classic yet underrated inventory of some of the finest wines and cocktails, as well as the charcuterie, oysters and cheese carte make this place a nice one to hang out after a long day. If you're planning on drinking, be sure to hire a Boston limo service to take care of all your driving!

The Estate (Closed)

1 Boylston Pl, Boston, MA 02116

If you love to be seen by other folks around you, The Estate offers a definitive chance to be in the magazine pictures. From getting your heels up on the dance floor, to fraternize with celebrities, this place offers you the party of a lifetime. In case you feel the dance drained out all your stamina, there's lounges arranged where folks can retire or sip their drinks in peace. In a nutshell, the Estate is the party where every person yearns to go for discovering their wild side.

The Sinclair

52 Church St, Cambridge, MA 02138

Most veterans of the 20th century probably won't remember the days when Mohawks was de rigueur for rambling in the Harvard Square on weekends. The days when Google and Microsoft were still in garages and IBM dominated the themes of almost every Harvard square discussions, that retro ambience is preserved by the Sinclair for folks who want a taste of decades of ingenuity. The Sinclair's music shows, craft cocktails, a rooftop deck for putting your moves on display make up for a magical weekend party. If you want to stop here for a drink, but also visit other nearby attractions, rent one of our Boston charter buses!

Parla

230 Hanover St, Boston, MA 02113

In the midst of 100 plus restaurants and Old World Charm of the North End of Boston suburbs, the relatively tine Parla derives its existence from a Italian leaning offering of small dishes and impressive cocktails. Despite the permit of cordials only joint, the innovative twist of equitable drinks of honey whiskey and Crema de Mezcal would make you forgive the bartending deficiencies. There are plenty of hotels in the area as well.
The bustling Boston metropolis is home to countless such clubs and bars, each with their unique aroma and atmosphere. These are worth visiting at least once in a lifetime to get the taste of fusion of cultures, ideas and drinks of course.