Best Restaurants in Baltimore, Maryland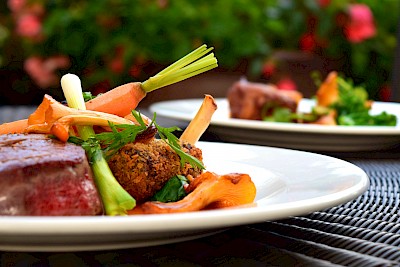 Are you a connoisseur who is traveling to Baltimore, Maryland and you're looking for a reliable eatery that can enrich your taste buds? If yes, then do not look anymore as you have landed on the right page. Baltimore is widely popular among the food-focused travelers for its delicious cuisines, such as crab cakes, Berger cookies, pit beef recipes, and much more too.
Apart from these mouthwatering dishes, Baltimore's burgeoning dining scene has much more to offer. In fact, a new vanguard of food outlets has elevated & expanded their dining choices (in the recent years) in order to offer you a memorable food taste. For your reference, this article will reveal "Five Best Restaurants in Baltimore" that can impress you with their extraordinary culinary innovations.
Top 5 Restaurants in Baltimore, MD
Wit & Wisdom

200 International Drive, Baltimore, MD 21202, USA

Situated inside the Four Seasons Hotel in Inner Harbor, Wit & Wisdom is a world-class restaurant featuring a plentiful of finger-licking dishes. Whether you decide to sit outside in order to enjoy the incredible water-front scenery or perched adjacent to the wide open kitchen, you will always be offered an electrifying view. This restaurant's extensive food catalog features both traditional and contemporary Amercian cuisines. Starting from a crab cake that's gussied up with horseradish-amped cabbage and pistachio butter to pork belly braised in roast beans, Wit & Wisdom will be an excellent food destination for all. Want to have a romantic evening? There's nothing better than booking a Baltimore limousine and dining in at Wit & Wisdom.

Mr. Rain's Fun House

800 Key Hwy, Baltimore, MD 21230, USA

Sometimes, you may find the best bites in a peculiar food outlet. Isn't it? Well, this whimsically named eatery offers quirky and compelling Amercian cuisines. This bohemian-style, modern, and upscale restaurant is located in the American Visionary Art Museum. The food of Mr. Rain's Fun House mainly features the continental classics, such as artisanal sausages, house-made pickles, creative charcuterie, ground brisket, and burgers. As one of Baltimore's best kept secrets, you might find some local celebs and famous faces dining here.

Clementine

5402 Harford Rd, Baltimore, MD 21214, USA

This posh restaurant with refined ambiance is a meat lover's mecca. Clementine primarily serves house-made charcuterie with meats including Pâté, pepperoni, bologna, and bacon. The food catalog features a surprising array of multi-cultural options, for example, French escargot with mustard thyme cream, Italian-inspired vegetarian carbonara, steaming bowl of buttery (a popular Belgian cuisine), vinous mussels, and home-style brunches etc.

Fork & Wrench

2322 Boston St, Baltimore, MD 21224, USA

This is a classically-grounded and modern-minded restaurant that serves inventive cuisines (without being too pricey). If you are planning to visit this eatery, then do not forget to try out "Risotto". It's prepared with smoked lamb's neck, poppy grapefruit, veal cheeks, and a soft & puffy Asian bun. Located just minutes from all of Baltimore's nightlife attractions, it is easy to rent a party bus with friends and hit the town for a night to remember!

Cosima Mill No. 1

Mill No. 1, 3000 Falls Rd, Baltimore, MD 21211, USA

Tucked away inside a refurbished mill, you will find this restaurant as a modern tribute to the classic Sicilian cuisine. The pool of experienced chefs of Cosima Mill No. 1 serves wood-fired pizzas, pasta, and smoked mozzarella arancini. The space also includes a sleek bar for quick snacks and cocktails.
The Final Verdict: With this, you have revealed five outstanding dining spots of Baltimore. Do not hesitate to visit these restaurants and enjoy a lip-smacking menu that every mouth craves for! If you want to get a sample from all of them, you'll have to wait until the "Taste of Baltimore!" Otherwise, you could start your own sampling tour with a Baltimore charter bus rental!