Best Restaurants in New Orleans, Louisiana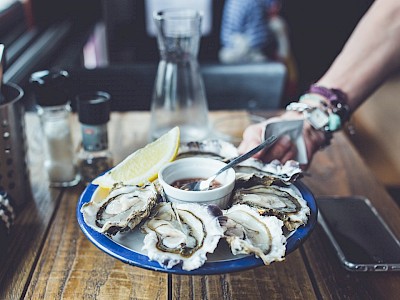 Do not feel like cooking at home and we visit a restaurant, when we want to celebrate a special occasion we go to our favorite restaurant, and even when we are tired of eating home cooked food we go and dine in a nearby restaurant. Since there are so many reasons why we head towards a restaurant, we must have a list of the best our city has to offer, so that we do not waste time finding one when our stomach is growling out of hunger.
Top 5 Restaurants in New Orleans, LA
Dickie Brennan's Bourbon House

144 Bourbon St New Orleans, LA 70130

The Bourbon House always offers locally sourced and fresh seafood. If a fish is not available in the nearby waters or is out of season it will never be offered to you at the restaurant. The restaurant has a premier oyster bar, which is the most popular one in New Orleans. You can either enjoy your oysters topped with Cajun caviar and champagne mignonette or straight up, just the way you like it. Bourbon House even offers the best single barrel and small batch bourbons you can find in the city. The New Orleans-barbecue shrimp and the alligator boudin should be included in your must-try list when you visit the restaurant.

Muriel's Jackson Square

801 Chartres St, New Orleans, LA 70116

If you plan to visit Muriel's restaurant for lunch then you are going to taste some classic dishes of the city like the andouille and shrimp omelet and the Po'Boy sandwich. The evening menu offers choices like Turtle Soup au Sherry or New Orleans Seafood Gumbo, Pan Encrusted Baby Drum, and so on. The atmosphere of the restaurant is amazing and exceptional all thanks to its brick walls, vines draping down the ceilings, and the cherry hardwood floors. Our limousines and party buses can take you to any restaurant you want, but this one is by far the most popular.

Antoine's

713 St Louis St New Orleans, LA 70130

Antoine's is not only one of the best restaurants in the city but also the oldest family restaurant in the United States. This restaurant has a few attractive dining areas, each with its own unique character and décor. The big Annex room has gas light fixtures and wood-beamed ceilings. While the 1840 room and the Rex room has antique pictures and objects and is vibrantly painted. The restaurant specializes in French-Creole cuisine, and the must try dishes include Crawfish Bisque, Oysters Rockefeller, and Pompano Pontchartrain. Bring the entire family with a Price4Limo party bus!

Tujague's

823 Decatur St, New Orleans, LA 70116

This is the second oldest restaurant in New Orleans. Ever since it first opened it has been popular for its culinary excellence. Though the interiors of the restaurant are simple, it is yet timeless. The dark wooden chairs look just perfect against the white serene walls, linens, and floors. Some of the dishes you must try include the Gulf Puppy Drum Pontchartrain, Boiled Beef Brisket, and the Veal Decatur. This New Orleans restaurant is so popular, you might run into some local celebrities!

Coquette

2800 Magazine St, New Orleans, LA 70115

Located in a very old Garden District building, Coquette offers an amazing Southern cuisine, and has an attractive international wine and beer list, and also offers inventive cocktails. Personalized tasting menus are created for the guests, using the local produce a different menu is offered every day, and this is what adds to the unique charm of this restaurant. The dishes you must certainly try are Deviled Crab, Hamachi Crudo, Turnip Salad, and the Dry Aged Duck.
Each of these restaurants is unique in their own special way. No matter which one amongst these you plan to visit, you are sure to enjoy the most satisfying meal, which will linger in your taste bud for a long time, and keep you wanting for more. If you want to do a tasting of each of the restaurants above, book a charter bus and make a stop at each!