Budget Hotels in Overland Park, Kansas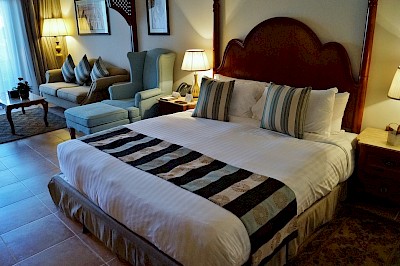 Budget Hotels in Overland Park, Kansas written by: Debdorshi Overland Park is one of the most popular cities in Kansas. Plenty of people come here for tourism and business purposes. Fortunately, there are plenty of budget hotels here.
Top 5 Affordable Hotels in Overland Park, KS
Some of the best budget hotels in Overland Park are:
SpringHill Suites Overland Park

12000 Blue Valley Parkway, Overland Park, Kansas 66213

SpringHill Suites is one of the best budget hotels in Overland Park. The rooms are quite spacious and clean. The rooms are also equipped with all the basic facilities like refrigerator, microwaves and a large TV which has all the premium channels. You will find a well maintained indoor pool inside the hotel. It also has a fitness center which has all the necessary equipment like treadmills, elliptical bikes, and exercise balls. Free Wifi is also available in all parts of the hotel. There is parking spots available for large vehicles such as charter bus rentals or tractor trainlers.

Hampton Inn Overland Park

10591 Metcalf East Frontage Road, Overland Park, KS 66212

Located nearby College Boulevard, Hampton Inn is another very good budget hotel which you can consider. It has as many as 133 rooms. They also serve a very good complimentary breakfast to all their guests. You will have plenty of options to choose from. There is an outdoor pool which is accessible to all the guests. If you want, you can also just sit in the lobby area and enjoy free coffee or tea throughout the day. There is also a meeting room which can accommodate up to 30 people. If you require airport limo services contact us today!

Homewood Suites Overland Park

10556 Marty Street, Overland Park, KS 66212

Homewood Suites is a very good conveniently located budget friendly hotel. Apart from breakfast, they also serve complimentary drinks and light dinner to all their guests from Monday to Thursday. The staff over here are very friendly and welcoming. If you want to do some sightseeing, they will be able to help you out. They also have a large parking space. Even if you come during the holidays, you won't face any difficulty. You will also find several eateries and shops nearby the hotel.

La Quinta Inn and Suites Overland Park

10610 Marty Street, KS-66212

In case you are visiting Overland Park, this is a good hotel to stay. The best thing about them is definitely their breakfast. You will find all kinds of items like pastries, fresh fruits, waffles and unlimited drinks and coffee. In case you have come here with your kids, you can visit the Cave Spring Historic Site or Monster Mountain. There are also plenty of good restaurants nearby. And you can also bring your pet here along with you if you want. After a night of celebrating with your Overland Park party bus rental, head over here and book a room.

Candlewood Suites Overland Park

11001 Oakmond Street, Overland Park, KS-66210

This is another great hotel which you should consider. The best thing about them is that they provide a full kitchen to all their guests. Hence, you can cook up something if you want. They also have a gym which has all the necessary cardio and aerobic equipment. Hence, even if you follow an intense training routine, you will be able to stick to it. They are also an environment-friendly hotel. With the help of an online tool called IHG Green Engage System, they measure their environmental impact.
Thus, you will be able to find plenty of budget hotels in Oakland Park. In spite of being reasonably priced, all of them will make sure that you have a comfortable stay.