Best Restaurants in Overland Park, Kansas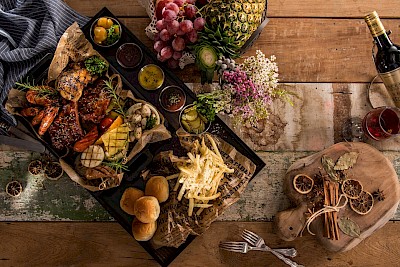 If you can make hundreds of lists of the things that you want to do or see in Oakland Park, why can't you have a list specifically for places that you want to feast? Of course, everybody's list would vary a bit a depending with their taste, but these are the 5 must -eat-at eateries in Oakland Park.
Top 5 Restaurants in Overland Park, KS
Jack Stack

9520 Metcalf Ave, Overland Park, KS 66212

Providing a diverse menu and consistent quality for over 5 decades are 2 good reasons to visit this Barbeque. Some of the tender and tasty meats prepared over hickory wood include popular burnt ribs and ends. If you don't fancy that you can try Jack Stack's trout entrees, Lamb ribs or vegetable kabob. For Sandwich enthusiasts, you can go for pork, smoked turkey, beef brisket or roasted ham.

Season's 52

340 Ward Pkwy,Kansas City, MO 64112

Featuring seasonal inspired delicacies as well as rustic cooking methods such as open fire grilling, Season's 52 is a must visit eatery in Kansas. It has an awesome outdoor patio and has private rooms for events. The restaurant's modern yet simple interior is also intimate enough for that someone special in your life and ideal enough to close that life changing business deal. This is a popular place for romantic dinners for two. If you are planning an anniversary dinner, hire us for your evening limo services.

J. Gilbert's

8901 Metcalf, Overland Park, KS 66212

J. Gilbert's is popularly known for its tasty wood-fired steaks. Although a bit pricey, the chop and steak plates include 2 sides, from creamed corn with bacon to roasted Brussels sprouts with prosciutto. You can also try the Lobster Risotto and Crab Bisque or the hand cut decadent Chocolate cake and white cheddar chipotle mashed potatoes. Local Celebs love to pop in here for a quick bite!

Frida's

7200 121st Street, Metcalfe Avenue, Overland Park, KS

Though a bit pricey too, the dining experience at the Mexican eatery is well worth the price. The place has a deceivingly wide array of innovative but authentic cuisines. It also features a welcoming and colorful mosaic, earthy tiled floors and deep read walls. This family friendly restaurant can take large groups with a reservation. If you're passing through on a charter bus tour, be sure to call in advance and stop for a bite!

Kyoto Sushi and Steak Japanese Restaurant

6792 West 135th Street, Overland Park, KS

If you are looking for authentic but innovative Japanese food, go for Kyoto Sushi and Steak and you will be glad you did. The must-visit Japanese eatery for Japanese food lovers, provides customers with a wide array of dining options including: taking a seat at one of the longest sushi bars in Kansas, enjoying a meal while relaxing at a comfortable booth or you can book one of the teppanyaki rooms in the restaurant where master chefs grill and prepare your food as you watch!

The Burg and Barrel

7042 W 76th St, Overland Park, KS 66204

Located in downtown overland Park, the Burg and Barrel has a beer menu that is more comprehensive than the food menu. This makes it the ideal restaurant for guests who love beer. The restaurant's ever-changing choice of over 100 craft beers and 16 taps includes different varieties from the neighboring Boulevard Brewing firm. For those preparing for a night of drinking on the town, have your Overland Park party bus stop here and fill your bellies first!
With its exceedingly cheerful environment and a wide array of flavorsome meals to choose from, Overland Park will definitely make you feel you feel at home. The food in these 5 restaurants is as good as home-cooked if not better and the service is out of this world: Very attentive and friendly.