Best Restaurants in Chicago, Illinois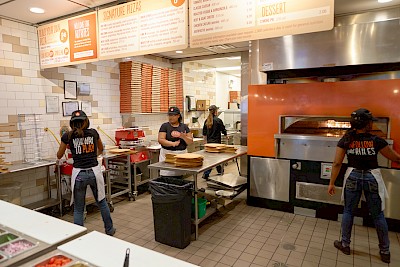 If you are looking for high-quality restaurants in Chicago, you will be spoiled with choices. Almost every neighborhood in Chicago has a restaurant serving awesome dishes. However, to make things easier for you, we have picked 5 of the best restaurants in Chicago.
Our Picks for Top 5 Restaurants in Chicago
Le Bouchon

1958 N Damen Ave, Chicago, IL 60647

Le Bouchon has been serving French delicacies to the people of Chicago since 1993. The place is small but it is very well decorated and the interiors will transfer you to Paris. Upon your arrival, you will be heartily welcomed by the staff over there. They will inform you about the specials of the day. This place is very well known for their steaks. You should also try out some of the entrees like Bouillabaisse or Frog Legs. And don't be surprised if you run into a few Chicago celebrities here. They also have a wide collection of French wine. In case you are confused with the huge list of wine, the staff will help you pick one.

Green Zebra

1460 W Chicago Ave, Chicago, IL 60642

If you are a vegan, Green Zebra is definitely the place to be. They have a wide variety of vegetarian dishes. They also have a separate gluten free menu list. Space is not very big but it has a very cozy ambiance. There is also a private dining area upstairs which can host around 20 or 25 people. While here, you should definitely try out their famous mushroom soup. You can also try out their gnocchi or their pineapple cake. The prices here are also on the lower side. Need a ride here? Check out the best Chicago limo services.

Piccolo Sogno

464 N Halsted St, Chicago, IL 60642

If you want to try some Italian cuisine in Chicago, then you should visit Piccolo Sogno. It was founded in 2008 by reputed Chef Tony Priolo. The interior is quite well decorated. It also has an open air sitting area which is really beautiful. And coming to food, you should try out the Rosticciana or the Seabass. And don't forget to miss out on the chocolate cake. You will also find a large collection of Italian wine. Since the restaurant is always busy, try to come a bit early. If you are with a group, hire a party bus rental to take you around for the night.

Alhambra Palace Restaurant

1240 W Randolph St, Chicago, IL 60607

This is one of a kind restaurant which is famous for its Middle Eastern interiors. It indeed looks like a palace. If you come during the weekends, you will also get to enjoy live belly dancing shows. People mainly come here to try out the wide variety of kebabs. Their service is also incredible. No matter what you order, you will get your food within a few minutes of placing the order. The staff is also very friendly and welcoming. However, you won't find many vegetarian dishes here.

Avec

615 W Randolph St, Chicago, IL 60661

This restaurant debuted in 2003 and was an instant success. They specialize in beer and Mediterranean small plate dishes. Some of their most famous dishes include Avec Lamb Roti and Roasted oysters. However, if you want to try out the lamb, you have to order 24 hours in advance. They also have a large wine collection from many countries like Italy, Greece, and Spain. You can also try out their cocktails. Is Avec a stop on your Chicago charter bus tour? You'll love it!
Thus, we see that Chicago has quite some top quality restaurants. And the best thing is that you will find all kinds of cuisines here. Some of the most reputed chefs in the world reside in Chicago. So you can be assured of the taste and quality.