Atlanta Nightlife Review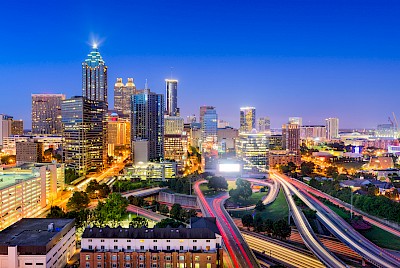 The city of Atlanta features a stunning atmosphere for tourists who wish to enjoy the lively nightlife. The abundance of skyscrapers occupies the streets of this city; however, some of the best museums and old mansion can also be found among these tall buildings. Delicious food, shopping avenues, and lively nightlife are the hallmarks of Atlanta. You are going to love everything that the night brings your way in Atlanta, Georiga!
Top Things to Do in Atlanta at Night
So what's new in Atlanta? For starters nobody down here ever says Hotlanta. So please check that phrase at the city limits. Head downtown to the new trendy Glenn Hotel, and you'll discover a bunch of restaurants and bar/lounge combos perfect for people watching and sipping cocktails with friends. There are also VIP rooftop bars with the best views in town.

Check out the largest aquarium in the world only a few blocks down the road. Waste the afternoon away in Piedmont Park and then grab a drink at the Park Tavern. Hike up Stone Mountain if you need to get away from it all.
One of the best ways to get around the city is with an Atlanta limo service. If you're traveling with a group of friends, jump on board a party bus rental! When you're in town for business, try our Atlanta charter bus services.
Bars & Nightlife
Atlanta has many areas for going out. So pay attention people because you might run into a celebrity. You can do some damage with this info. Buckhead no longer rules the scene. The current epicenter would have to be Midtown. If you are looking to chill with friends, then duck into the Highlands or Decatur. If you want something alternative (pronounced All-Tur-Nah-Tive), then try Little Five Points or East Atlanta. But the main action and largest collection of bars and clubs are really in Midtown (or at least in our little-twisted world it is).

Here then are our picks to keep the good times rolling:
Bazaar: Step into this intimate Midtown enclave to see where all the beautiful people are hiding.
Compound: the best dance club in the city and no hassles when you wear your Pumas...plenty of space for indoor and outdoor raging in Midtown.
Eleven50: the only stop in town for international superstar DJs is an old time theater redone as a hot Midtown club.
Fever: the party is alive and well as it rolls across all twelve of their deluxe rooms...located on Cheshire Bridge Rd.
Halo: diverse Midtown crowd and still on top of its game five years running.
Loca Luna: feel the entire place pulse as you sip mojitos to the hardest working band in the city...located in Midtown.
The Local: the only real bar in town for those nights when you leave your dancing shoes at home...located in Midtown.
Okay, seriously, we are not suggesting that you drop everything and plan a vacation to Atlanta, but it is a city on the rise with a ton to offer. So, if you're coming down here for business or to see friends and family, you now have a lot more upscale options. It makes for a great road trip or weekend getaway if you are in the Southeast. To some people, Atlanta is their home away from home when it comes to shopping and nightlife. I mean, we do have the only IKEA for miles and miles!