Universities & Schools in Gainesville, Florida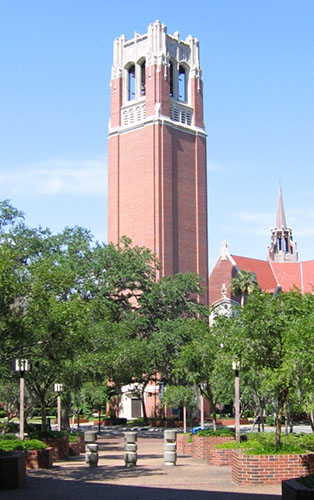 Gainesville is most well known for being host to the massively popular University of Florida. However they aren't the only educational institution in the city. We offer transportation to any of these schools by using a charter bus in Gainesville, FL whether you're doing a college tour or going to a sports game.
Top Universities & Schools in Gainesville
1. University of Florida

Commonly called UF or Florida, the University of Florida traces its beginnings in 1853. This 2,000-acre state university offers graduate and undergraduate programs, and has been operating steadily in Gainesville since 1906. It is the only university in Florida to become a member of the Association of American Universities. In 2013, the state's board of governors recognized the university as one of the preeminent universities in Florida's state university system. UF was also ranked by the US News & World Report as the ninth best state university in the country.

2. Sante Fe College

Sante Fe College is a public college that employs an open admission policy, which means it takes in any high school graduates or students holding a GED. This community college, for the most part, offers two-year degree programs composed of more than 50 accredited applied sciences and technology programs. It also offers nine bachelor's degree programs such as Clinical Laboratory Science, Accounting, Nursing, Industrial Biotechnology, Early Childhood Education, Health Services Administration, Organizational Management, and Industrial Biotechnology, among others. Community College Week has ranked Santa Fe as the 6th in the US for awarding AA degrees.

3. Saint Leo's Gainesville Education Center

Established in 1889, Saint Leo University is a private, not-for-profit, Roman Catholic university with its primary campus located in St. Leo, Florida, which is also the first Catholic college in the state of Florida. It is also one of the largest of its kind in the US. However, its education center in Gainesville was opened quite recently and is currently offering Master's, Bachelor's, and Associate's degrees through online and on-ground classroom sessions.

4. City College Gainesville Branch Campus

City College is a privately-owned college with its primary campus located in Fort Lauderdale. The Gainesville Branch Campus was established in 1988. It received approval to offer Associate of Science degrees in 1989 and began with its Bachelor of Science degree courses in the middle of 1999. The Gainesville branch is a 21,200-square-foot, two-story building located close to downtown Gainesville. The branch also has operates a separate building that houses its veterinary technology lab facilities.

5. Florida Gateway College

Formerly known as Lake City FGC was built in 1947 and is designated by Florida College System as a "state college." The FGC campus is spread across 132 acres of natural pinelands and maintains more than 25 buildings. In addition, it operates three satellite locations in adjacent counties where local residents can participate in live classes and distance learning courses, or consult with advisors.
Looking for a classier approach to trasportation around town? You can rent a Gainesville limo service for any special events at your school. Be sure to see the attractions in Gainesville as well.