Best Pro Sports Team Transportation in Gainesville, Florida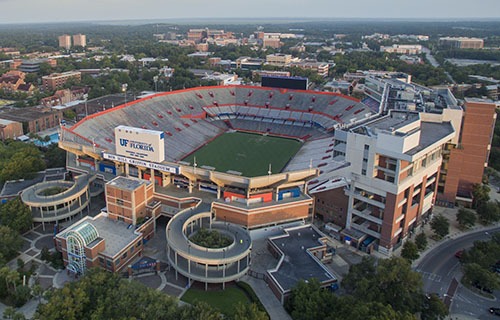 The University of Florida has some of the top college sports teams in the country. Naturally they need a place to host games for thousands of spectators to come watch. These stadiums and sports centers are here for that reason. You can hire a charter bus in Gainesville, FL to take your team or group of fans to any of these locations.
Most Popular Stadiums in Gainesville
1. Ben Hill Griffin Stadium

Popularly called "The Swamp", this 91,916-seat capacity football stadium serves as the home of the University of Florida's football team (Florida Gators) and holds the distinction of being the largest football stadium Florida has to offer. The Swamp has gained notoriety among away teams as a tough place to play and has always ranked high on the home field advantage and best game day experiences list in college football. A sold-out game teeming with cheering and shouting loyal, exuberant Florida fans and concentrated fan noise due to the closed-id design of the design makes the Ben Hill Griffin Stadium one of the loudest stadiums around.

2. Stephen C. O'Connell Center

The O'Connell Center, aka the O'Dome, is a multi-purpose arena situated on the University of Florida campus grounds. It is named after the sixth university president. The stadium sits in the middle of Ben Hill Griffin Stadium and McKethan Stadium. The O'Connell Center houses a number of the university's college sporting teams such as the men and women's basketball team, diving and swimming team, gymnastics, and volleyball team. The O'Dome also plays host to other campus events. Case in point, it is the largest live concert venue in the North Central Florida area.

3. Alfred A. McKethan Stadium

The Alfred A. McKethan Stadium is the University of Florida's baseball field and home of the Florida Gators college baseball team. It has a seating capacity of 5,500, concession stands, a press box, and locker room facilities for both home and away teams. It is lighted up for night games and has a natural clay and grass playing surface. In October, 2017, it was reported that a new, $50 million-baseball stadium is set to be constructed on August, 2018. It is expected to increase chairbacks to about 5,000 and a seating capacity of 10,000. It is projected to be completed by the end of 2019.

4. James G. Pressly Stadium

Home of the University of Florida's women's soccer team, and the men's and women's track and field team, this dual-purpose, 4,500-seat capacity stadium was renamed in memory James G. Pressly, Jr., a university alumnus. The soccer field has an area of about 115 yards by 70 yards. The track, on the other hand, was named in honor of 1932 Olympic silver medalist Percy Beard who also served as a track and field coach of the Gators for a good 27 years.
Want a more luxurious travel experience when going to one of these places? Rent a Gainesville limo service and get there in style. You can get a shuttle service from any one of the schools and universities in Gainesville as well.