San Jose Nightlife Review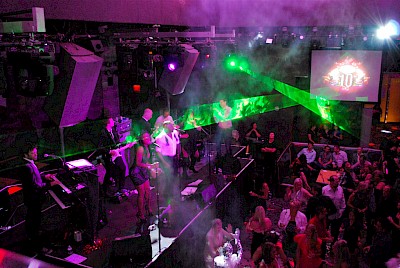 The nightlife of any major city is a big attraction for both residents and visitors from around the region, and San Jose is no exception. Entertainment is an important consideration for many people, and a night out on the town is just what they need after a long week at work.
All major cities have some sort of bar or nightlife scene, but the problem is that there's so many to wade through. You have a limited time to enjoy yourself; how are you going to choose among all the different option? This article serves as a compilation of 5 of the top nightclubs and bars in San Jose so you can head out to party with confidence that you're going to have a great time. Let's get started!
Top 5 Best Bars & Nightclubs in San Jose, CA
LVL 44 Nightclub and Lounge

The LVL 44 Nightclub and Lounge has only been active for a few years, but in that time it's become a staple of the San Jose Nightlife Scene. Reviewers on yelp rave about the fun time, beautiful people, and lack of cover fee. With great drinks, entertaining live music every Thursday, and the capacity to hold events large or small, LVL 44 is a great option for your next nightlife adventure. LVL 44 Nightclub and Lounge is located at 44 S Almaden Ave, San Jose, CA. Phone: (408) 331-8419

The Office

If a bar environment rather than a nightclub is more your scene, consider trying out The Office - one of San Jose's top rated bars. A high rating doesn't always come with high prices, and the beers and wines on tap are fairly priced. With free food all around like pretzels and and a cracker mix, you'll have something light to snack on if you get a little hungry. With a clean and chic environment as well as affordable beverages, the Office has garnered some serious praise with the San Jose bar crowd. This club is close to some budget friendly hotels. The Office is located at 2306 Almaden Rd, San Jose, CA. Phone: (408) 266-2415

55 South

If you're looking for a nice lounge experience with a good atmosphere and less noise than a typical club, head on down to 55 South. Online reviews praise the bartender's serious skills and drinks made right every time. With a menu ranging from small plates to full meals, you're car service airport transportiond to find what you're looking for at this nightlife hotspot. 55 South is located at 55 S 1st St, San Jose, CA. Phone: (408) 288-6000

Shisha SJ Hookah

For something a little different, try the Hookah experience at Shisha SJ Hookah. This bar features fair prices, a variety of flavors, and even some hookah without tobacco which is always a nice touch. Friendly staff, music, and flat screen TVs are sure to make your hookah experience enjoyable. Shisha SJ Hookah is located at 84 N Market St, San Jose, CA. Phone: (510) 585-5594

Paper Plane

For a more chill bar experience focused on quality cocktails, give Paper Plane a shot. This establishment boasts one of the largest walls of liquor in San Jose, so if you're looking for something particular or strange it's the place to be. It gives off a cool hipster vibe, and the bartenders treat their mixology like an art form. Paper Plane is located at 72 S 1st St, San Jose, CA. Phone: (408) 713-2625
These 5 nightclubs and bars only scratch the surface of what San Jose's Nightlife has to offer. Next time you're up for a party, consider trying something new. As you can see from the wide variety in our list, there's a lot of options to choose from. If you step out of your box, you may just discover a new favorite place!