Best Restaurants in San Jose, California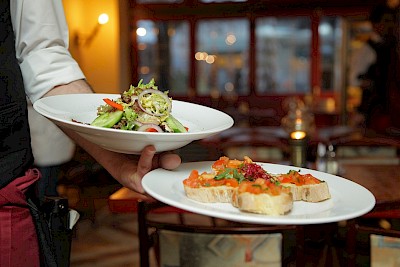 San Jose in California can be a wonderful place for you to satisfy your taste buds. This place is home to a large number of restaurants which serve local delicacies as well as international and popular cuisine. If you are living in San Jose or travelling there, then you will be amazed by the sheer number of restaurants and cafes present over here.
Treating yourself to some of the finest cuisines around here can be an adventurous and memorable experience. San Jose offers you some of exciting options when it comes to having your favourite food over here. However you should possess knowledge about the restaurants, the type of food they serve and their address for a pleasing and efficient gastronomic experience. If you are a food lover or are simply looking for some great cuisine, then read our article to find out more. We have listed the top 5 best restaurants in San Jose, CA for your convenience.
La Foret Restaurant

21747 Bertram Road, San Jose, CA 95120-4329

If you love fine dining and French cuisine especially, then La Foret is for you. This place offers you some exciting options in French, American and European delicacies. The old countryside adds to the scenic beauty of the place. You can choose from a wide number of items from here like duck, chicken, pork and other wild game. You can also indulge yourself in some fine French pasties. This place also provides you with gluten free options and is vegetarian friendly also. This family friendly restaurant is perfect for large groups traveling with a party bus rental.

Scott's Seafood

185 Park Avenue, San Jose, CA 95113-2240

Scott's Seafood place is perfect for hanging out with your friends on the roof top deck or on the sky top bar. It has numerous seafood preparations which will certainly amaze and delight you at the same time. Be prepared to experience some of the best seafood dishes along with drinks and their own special twist to mock tails.

Grill on the Alley

172 S Market Street, San Jose, CA 95113-2307

If you swear by grills and American food, then this place is certainly for you. Indulge yourself with the freshest and most tender meat along with some signature dips. They also have a fully equipped bar and their lobster bisque and lamb chops are to die for. If you want to kick your night up notch, book a San Jose limo rental for all your transportation needs.

Falafel Drive In

2301 Steven's Creek Boulevard, San Jose, CA 95128-1551

This place serves mouth watering falafels. Fresh falafels and pitas loaded with veggies. They serve generous quantities and you will find all their food items freshly made. It offers you choices in fast food, American and especially Middle eastern. Look around, you might see some celebrities dining here!

SEIKI Ramen

Evergreen Village Square, Ste 40, San Jose, CA 95135

Open 24x7, this place offers you exciting options in ramens. The drinks are complimentary once you order and the staff is very friendly. They have great mouth watering ramens even low in sodium ones. It is definitely worth a try for their traditional cuisine.
Final Thoughts
Explore and experience, that is the two key points you should have in mind while travelling in San Jose for food. Explore the city's wide and varied flavours along with some exciting twists to the original ones. Want to experience all of the restaurants listed above? Call Price4Limo today, and let us arrange a San Jose charter bus tour for you!