Best Restaurants in Sacramento, CA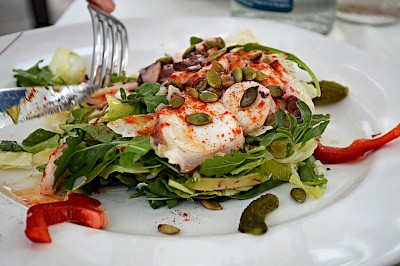 The capital of California, Sacramento is famously known for having many farms and hence all the eateries can be expected to use only fresh ingredients in making their food. This is true but some restaurants are better than others. Here is a look at the top five restaurants that are the perfect place to eat in the farm-to-fork capital of the nation.
Top 5 Restaurants in Sacramento, CA
Kitchen Restaurant

2225 Hurley Way, Sacramento, CA

The Kitchen Restaurant is like no other in the world. It has a lovely décor and an intimate ambiance. The Chef Randall Selland will introduce himself to you personaly. The food will then be prepared before your eyes. Usually a six course meal is served but the actual dishes served differ from one month to the other. Some items you can expect to find on the menu include beef with black truffle flam, fresh sashimi and puff pastry. To down the food, diners can opt for the Sommelier's choice or choose from the many options available. The food preparation process is by itself an attraction and at the end of it what meets the diners' mouths is tasty and fresh. The Kitchen Restaurant can only seat 50 people in a night and hence you will need to book early.

Biba

2801 Capitol Ave, Sacramento, CA

Walk into Biba and you will feel like you are a part of one big family. Though the décor could be better, the service is great and the food, very tasty. Named after the owner and chef, Biba Caggiano, this is the home of Italian food in Sacramento. There are many meals you can enjoy here including Spinach Lasagna, grilled scallops wrapped in sage, smoked prosciutto and ricotta tortellini to name but a few. So hire a party bus rental in Sacramento and bring the entire family over for a bite!

Firehouse Restaurant

1112 2nd Street, Sacramento, CA

This five star restaurant is housed within an old firehouse that has its history dating as far back as 1853. The Firehouse establishment has won awards of the Best Service and Best Overall Restaurant. When you get there you will agree that they deserve these awards. The interior is beautifully decorated with several art forms to create a welcoming environment. On the menu you will find many traditional foods like roast duck, seafood and many more. There are many wine choices and tasty desserts to make a meal there unforgettable. And if you want to make a night of it, book a Sacramento limo service!

Magpie Café

1409 R St., Suite 102, Sacramento, CA

This casual restaurant is best known for serving American fare. The menu keeps changing daily depending on the available ingredients that are sourced locally. There are vegetarian friendly foods served as well as meat dishes. All foods have creatively mixed flavours that you will love. Most notable is the chocolate avocado mousse among other tasty desserts. You might run into some Sacramento celebrities at this spot!

Kru

3335 Folsom Blvd, Sacramento, CA

This is known to be among the common places where the chefs eat. If the people who know how to make good food trust Kru, who are you not to? Here you will find the best sushi in town but that is not all that the owner and chef, Billy Ngo has to offer. You will also find tasty Sashimi and grilled chicken thigh yakitori. There are many other foods you can eat at Kru with different drinks and accompaniments.
These are not the only restaurants you can dine at in Sacramento, CA. There are many more but these stand out when it comes to good food and excellent service. If you want to start a tasting tour of the city, you can always rent a charter bus and make multiple stops at each restaurant.